Departures: Five Milestone Font Families by Emigre


Published by Emigre
This book celebrates the acquisition of five Emigre font families by The Museum of Modern Art in New York in 2011. The digital fonts are Keedy Sans, Mason Serif, Template Gothic, Oakland, and Dead History. These fonts were added to the Architecture and Design Collection as part of a selection of 23 digital typefaces documenting milestone designs covering the twentieth century. The acquisition followed in the footsteps of the Museum's first ever typeface acquisition, a case of 36-point Helvetica Bold lead type.
Inspired by the title of the accompanying exhibit Standard Deviations, we selected some of the most unique characters from each of these five Emigre fonts and compared them visually to Helvetica, it's predecessor in the collection.

144 pages, 5 x 8 inches, black and white, soft cover.

Available to US customers only.
Price includes shipping.
This book is also available at the Blurb online bookstore.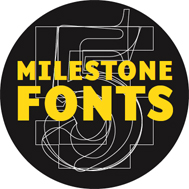 Special Offer: Five Milestone Font Families for only $164
For a limited time you can purchase a basic license for the Five Milestone Font Families in OpenType format for only $164 and receive a free copy of the book. (This is less than half the regular price!) This specially priced offer expires January 30, 2012 and may not be combined with any other offer or upgrade.
The Five Milestone Font Families set includes 12 font styles in OpenType format: Dead History (Roman and Bold), Keedy Sans (Regular and Bold), Mason Serif (Regular and Bold), Oakland (Lo-Res 9 Wide Bold, Lo-Res 12 Bold, Lo-Res 15 Bold, Lo-Res 22 Bold), and Template Gothic (Regular and Bold).

Below: A sampling of spreads from the book Departures: Five Milestone Font Families by Emigre