Lo-Res


By Zuzana Licko

This text was first published in the Summer of 2001 in Emigre #59.

 
The Lo-Res family of fonts is a synthesis of pixelated designs, including Emigre's earlier coarse resolution fonts, as well as bitmap representations of Base 9. It replaces the preexisting Emigre, Emperor, Oakland and Universal families and groups these related bitmap designs under one family name in the font menu, thereby simplifying their naming. The Lo-Res fonts also offer technical improvements, including a more complete character set, more consistent character shapes among styles and weights, as well as improved alignment among the various resolutions.
 
Lo-Res Twenties Package

Lo-Res Teens Package

Lo-Res Nines Package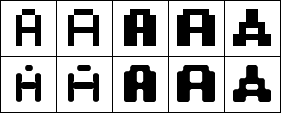 Lo-Res Design History
More than fifteen years ago, Zuzana Licko designed a series of coarse bitmap fonts, created on the newly introduced Macintosh computer with a crude public domain software. These fonts were considered by many designers as a cute computer effect - generally relegated to special effect status like blown-up halftone screens and coarse photo grains. This category of typefaces was seen as idiosyncratic, with limited applicability, soon to be rendered obsolete with the impending arrival of high resolution computer screens and output devices.
During the following decade, bitmaps continued to be marginalized, but would not disappear. While computer screen displays increased more in size than in resolution, computer generated typefaces did attain print quality through the implementation of outline font technologies, such as PostScript, and high resolution output devices. As a result, bitmapped fonts made only the occasional appearance in print when something computer related was to be expressed.
Recently, however, coarse bitmapped fonts have made a huge comeback in print. And this time around, their usage goes far beyond computer related themes, although it remains a dominant typographic force within areas such as techno music and other disciplines where computer technology has had an impact. The reasons for this dramatic comeback are varied. The most obvious is that a new generation of young graphic designers has entered the profession. For these designers, and their audiences, who grew up playing video games and now surf the Internet, low resolution type is no longer an alien, difficult-to-read, crude computer phenomenon. It's been a part of their daily reading experience at home and at school. For this generation, it may be that reading a crude bitmap in print is no different than reading it on the screen. Through our everyday encounters with computers, the idiosyncrasies of bitmaps are disappearing - visible pixels are becoming accepted as the natural mark of the computer, like brush strokes on an oil painting.
The acceptance of bitmaps should not be a complete surprise; bitmapped images and type have a long history. After all, prior to computer graphics, bitmaps had long served a multitude of ubiquitous visual forms including tiled mosaics, tapestries, embroidery, knitting and weaving. In each of these disciplines, distinct elements (pixel units) of color or shade are combined to form a coherent image.
Currently, bitmaps are also gaining popularity due to their continued use in electronic gadgets other than PCs. While computer developers strive towards faster performance and higher resolution in high-end devices, respectively lower resolutions remain more affordable, portable and efficient and therefore continue to be implemented in such devices as cell phones, pagers and microwave oven panels. Accordingly, the need for type and graphics that address the coarse resolution environment will remain in demand; a demand that is particularly pressing, since these low-resolution components often function as the crucial link between humans and machines.
Whatever the stylistic, cultural or functional reasons behind the current popularity of bitmapped type, the result is an increased need for bitmap typefaces which are fine-tuned for the computer's display grid; which has prompted this reworking of Emigre's bitmap font offering into the Lo-Res family.
The Lo-Res family of fonts is a synthesis of pixelated designs, including Emigre's earlier coarse resolution fonts, as well as bitmap representations of Base 9. It replaces the preexisting Emigre, Emperor, Oakland and Universal families and groups these related bitmap designs under one family name in the font menu, thereby simplifying their naming. The Lo-Res fonts also offer technical improvements, including a more complete character set, more consistent character shapes among styles and weights, as well as improved alignment among the various resolutions.


Screen use, magnified 2 times from minimum size.


Scaled to same point size.


Screen use, magnified 2 times from minimum size.


Scaled to same point size.
The number in each Lo-Res font name indicates the number of pixels in its body, or ppem ("pixels per em".) On a standard Macintosh display, this is equal to the point size; under Windows the point size will appear reduced by approximately 75% on a 96 dpi display. For details, see the Windows help page.
To add variety for high resolution applications, the Lo-Res Plus and Lo-Res Minus variants were developed. These counterparts to Lo-Res 9 mimic the effect of photographically overexposing and underexposing, which become apparent when bitmaps are reproduced with such methods as photocopying. (The underexposed effect applied to the Minus series was inspired by Rian Hughes's Mastertext Light.)

Unlike bitmap fonts, most typefaces used on today's computers are resolution independent. They are designed at very high resolutions, making their shapes scalable to virtually any size. However, because they usually are not (or can not be) optimized for low resolutions, they are difficult to read on screen at small sizes.
In contrast, a bitmap font is designed to be optimized for a specific resolution; that is, a specific number of pixels relative to it's body.
In order to achieve perfect pixel control at small sizes, bitmap designs incorporate the pixels in their structure. The result is that the pixels remain apparent when the fonts are scaled to other sizes. (Their apparent resolution does not increase as the resolution of the output device is increased, for example, from video display to a printed page.) Therefore, each bitmap design is tied to a resolution.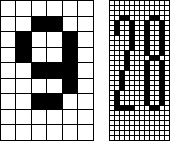 For ease of use, the Lo-Res fonts are provided in outline format; as stair step outlines of the bitmap design. When used at low resolutions (when the pixels are visible to the naked eye, such as on a video display) the Lo-Res fonts are best used at their intended size, or at point sizes that are integer multiples thereof.
At high resolutions (when the pixels are invisible to the naked eye, such as print quality output) the Lo-Res fonts can be scaled to any size.
The terms "bitmap" and "pixel" are now so commonly used that it's worth noting their origins. Both are abbreviations: Bitmap = "map of bits" (A bit being the smallest element on the map or grid.) Pixel = "picture element" (A pixel being the smallest element in a picture that is constrained by a grid.) Bitmap typefaces are composed of pixels. The pixel size is defined by the resolution of the grid, which also constrains the pixel placement. In turn, the resolution of the grid is defined by the output device. (For example, a standard Macintosh display is 72 pixels per inch; a Windows display is usually 96 or 120 pixels per inch.)
The coarser the resolution of the grid, the larger is the relative size of the pixels, and the more limited is the possibility of pixel placement. While this limits the variety of representable font characteristics, such limitations can be a strong source of design inspiration. Constraints on design choices allow many options to be evaluated quickly. By contrast, having many choices can be overwhelming, and the solution is often more difficult to distill from the myriad of options.
The result is that bitmaps have a strong and decisive character, which is most noticeable when used at headline sizes. In print work, bitmaps also function well at very small sizes; their modular proportions maintain open counters and there are no delicate details to drop out or fill in.
The bitmapped aesthetic is here to stay because it's inextricably linked to computer technology, and computers are increasingly affecting the production of, and our relation to, everything around us. As information is increasingly being stored, accessed and displayed in digital form, screen display has become the final method of viewing much of our information.
 
Recommended Computer Settings
Macintosh users: To activate bitmap fonts on screen, be sure to select "Disable Smoothing at Screen Font Sizes" in the ATM control panel.
GoTo: ATM control panel
Select: "Disable Smoothing at Screen Font Sizes"
Windows users: To activate TrueType smoothing at sizes other than the bitmap font sizes, be sure to select "Smooth Edges of Screen Fonts."
GoTo: Control Panel / Display / Plus!
Select: "Smooth Edges of Screen Fonts"
Note: you may also need to select "High Color" or "True Color" under Settings / Color Palette.