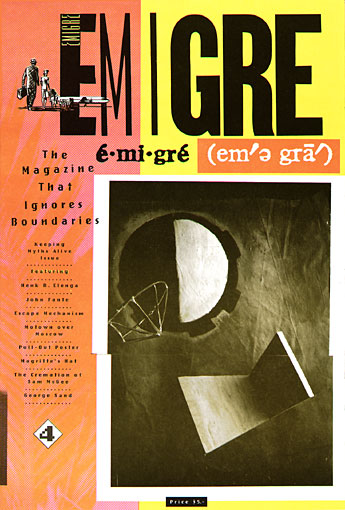 State-of-the-art computer typesetting and type design by Zuzana Licko are utilized throughout this issue.

Featuring the art of Hard Werken founder and Dutch expatriate Henk Elenga; the portrait work of Polish photographer Marek Majewski; computer generated portrait of Desi Arnaz by Canadian Macintosh artist John Hersey; and a portarit of Alexandre Skriabin by French illustrator Didier Cremieux.

Plus, a reprint of the 1920 poem "The Cremation of Sam McGee" by Robert Service, illustrated by William Cone.

Essays include "Magritte's Hat" by Veronique Vienne, and "An Appreciation: George Sand" by Alice Polesky.

Short stories by John D'Hondt and Peter Plate, plus an excerpt from John Fante's novel Ask the Dust.

Also presenting a selection of poetry from the Emigre benefit readings at Beyond Baroque in Los Angeles, with an introduction by Marc Susan.

Full color Emigre promotional pull-out poster created by Rudy VanderLans during his one month artist in residence at the Visual Studies Workshop in Rochester, New York.