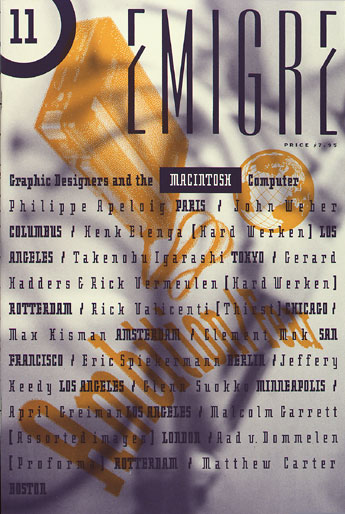 Emigre 11 is entirely devoted to the initial response by the world of graphic design to the introduction of the Macintosh computer.

Featuring interviews with graphic designers from around the world including Philippe Apeloig, Matthew Carter, Jeffery Keedy, Takenobu Igarashi, Gerard Hadders, Max Kisman, Rick Valicenti, Glenn Suokko, Clement Mok, Erik Spiekermann and others.

Inspired by Warren Lehrer's book French Fries, in which the designer used a different typeface for each character in the book, designer VanderLans, too, assigned a different typeface to each interview. The various interviews run alongside each other, creating a notion of everybody speaking at once emphasizing the urgency and excitement felt by the designers.

Various designers were invited to each design a page encouraging the readers to "Keep on Reading."

The page numbers were designed by the graduate students at California Institute of Arts, Valencia.

Introduction by Rudy Vanderlans and Zuzana Licko.