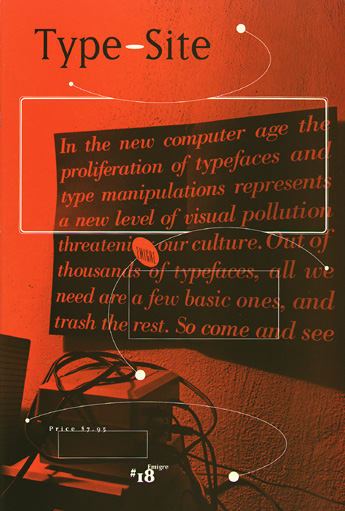 (Mint condition.)

Emigre 18 further explores the unknown possibilities of type as an expressive/communicative medium.

This issue features a 16-page typographic experiment by Paris-based designer Pierre di Sciullo. The pages presented are an adaptation of several chapters from issue No. 8 of Qui? Resiste, a journal published by Sciullo. For this issue, titled "Reading Manual," Sciullo designed a phonetic typeface named Quantange, a design which, as much of his work does, fluctuates between applied and Utopian research.

Also included in this issue is Beowolf, the first typeface generated with "Random Technology." Erik van Blokland and Just van Rossum, the two young Dutch designers responsible for random technology, raise the question, is best really better?

Also featured is a special project created by London based graphic designer Phil Baines, titled "Clear Enough to Read," which is a continuation of his St. Martin's School of Art thesis "The Bauhaus Mistook Legibility for Communication."