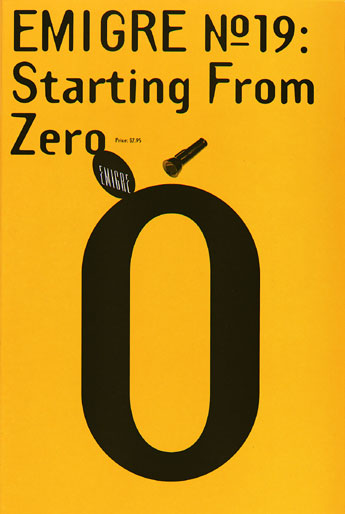 After seeing numerous graphic innovators return to what design critic Keith Robertson refers to in this issue as "the safe refuge of the International Style," \Emigre felt inclined to take a closer look. Does all experimentation in graphic design eventually lead to the simplification of graphic design? Are the graphic designers who concern themselves with complex solutions merely slow learners who try out the wildest schemes only to come to one conclusion, that less is more? These are some of the questions that are raised in this issue of Emigre.

Rudy VanderLans travelled to Cranbrook, and spent three days discussing these topics and much more with faculty and students including Kathy McCoy, Ed Fella, P. Scott Makela and Laurie Haycock.

Also featured in this issue is a lengthy conversations with Hard Werken's Henk Elenga, and an essay by illustrator/designer John Weber about rationalism versus intuition.