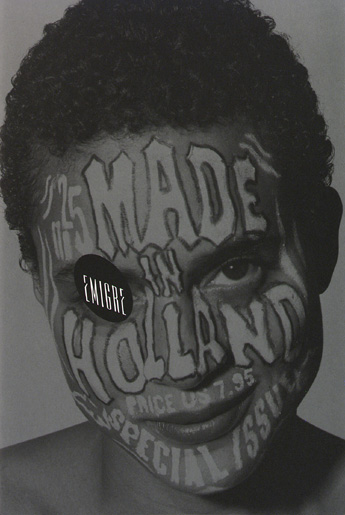 Issue 25 of Emigre magazine focuses on the current state of graphic design in the Netherlands. However, unlike previous issues of the magazine that have been devoted to Dutch design, this issue does not consist of analytical or scholarly essays about contemporary work, but is, on the contrary, constructed more along the lines of a traditional magazine about popular culture.

Dealing with both the profound and the profane and everything in between, Emigre 25 will shock you with its scandalous features and will inform and infuriate you with its idiosyncratic views and reviews of books, film, music, opera, fashion, politics, the environment, etc. Furthermore, it will bore and trivialize you with its society page and its crass commercial advertisements. The editorial staff of this cultural compendium are Vincent van Baar (graphic designer, The Hague), Gerard Forde (cultural historian, London/Rotterdam) and Armand Mevis (graphic designer, Amsterdam).

We make no attempt to give a balanced and unbiased view of design in Holland; rather, we seek to air the views of those designers who have developed a strong and individual voice since graduating from design schools in the mid to late '80s. This issue champions the young and the brave, but also pays homage to some of the oldies among us who are still more than young at heart.

Gerard Forde interviews Irma Boom, Armand Mevis, Lex Reitsma and Mart. Warmerdam. Contributions from Erik van Blokland, Ton van Bragt, Linda van Deursen, Gert Dumbar, Berry van Gerwen, Peter Jonker, Jacques Koeweiden and Paul Postma, Harmine Louwé, Joseph Plateau (design group), Lex Reitsma, Ko Sliggers, Michiel Uilen, Rick Vermeulen and Mart. Warmerdam. Plus an article by Gerard Forde based on an interview with Dingeman Kuilman, and more!