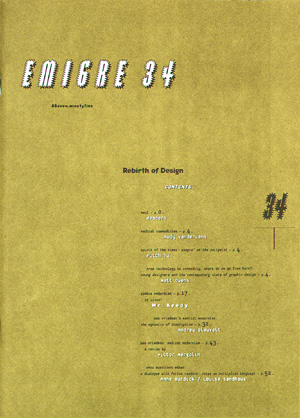 Within graphic design, writing is probably one of the few areas left fairly unexplored (at least it is for us). With Emigre 34 we continue to bring writing to the forefront and focus on the ideas and thinking that both informs the making of graphic design and results from it.

In this issue, Andrew Blauvelt and Victor Margolin each take an in-depth look at the work of Dan Friedman and his recently published book Radical Modernism.

Anne Burdick and Louise Sandhaus, respectively working at the University of North Carolina, Raleigh and the Jan van Eyck Academy in Maastricht, Holland, will collaborate on an article by Internet connection. The essay will take a close look at design historian and critic Robin Kinross's books Modern Typography and Fellow Readers.

Jeffery Keedy explores the relationship between graphic design and Modernist ideologies in his essay "Zombie Modernism."

Putch Tu will probably surprise us, as she did in Emigre 32.

Rudy VanderLans ponders the inevitable (and perhaps necessary) commodification of graphic design experiments in "Radical Commodities."

Matt Owens gives us "A young designer's look at the contemporary state of graphic design."