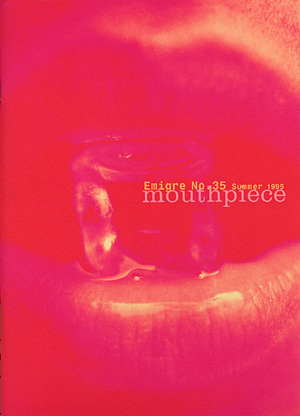 Edited by Anne Burdick

Mouthpiece is a two-issue project initiated and guest-edited by Anne Burdick. It began with a Call for Papers and/or Projects that posed the question, "What happens when the worlds of writing and design coincide, overlap and collide?"

This first issue includes:

"The Future of Writing," an essay by Johanna Drucker, author of The Alphabetic Labyrinth and The Visible Word: Experimental Typography and Modern Art, (among others), that looks at the history of the written material object and its future in the realm of the "Fungible," (a characteristic of digital information).

Denise Gonzales Crisp, a graduate student in Graphic Design at California Institute of the Arts, asks the hard questions about practice, the burgeoning design criticism and capitalism's not-so-conspicuous absence, in "Ways of Looking Closer."

"The Voyages of the Desire" are excerpted spreads from books that are (only) imagined by Kevin Mount, a research editor and publications designer for the British Department of Health in Devon, England.

In "WD40 or the Importance of David Holzman's Diary," Elliott Earls of the Apollo Program mixes insight, bravado and a potent bibliography with the tools of new media and emerges with a proposition for attaining voice and access.

Andrew Blauvelt, writer and designer, and Joani Spadaro, painter and reluctant writer, (both professors of Graphic Design at North Carolina State University, Raleigh), question the primacy of the word in a visual/verbal exploration entitled, "Designs on Painting."

Steve Baker, a Senior Lecturer in Historical and Critical Studies at the University of Central Lancashire, UK, stumbles through a path of personal observations and theoretical ruminations in the essay, "'To go about noisily': Clutter, Writing and Design."

In "Writing and Design and the Subject," the author Adriano Pedrosa, an artist and writer who divides his time between Rio de Janeiro and Los Angeles, submits to his own death and delivers the birth of the designer/auteur. He is abetted by Michael Worthington, a graphic designer at ReVerb in Los Angeles.