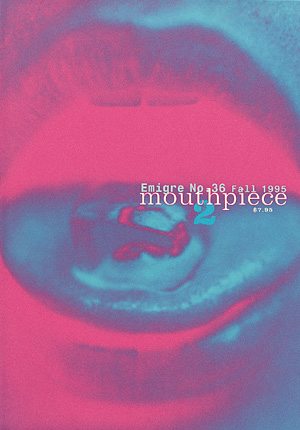 Edited by Anne Burdick

Mouthpiece 2 continues to explore the regions where writing and design coincide, overlap and collide.

Interviews:

Tony Credland, Glenn Orton and many other graphic designers from Western Europe and North America talk about their poster magazine, Feeding Squirrels to the Nuts—which began as an outgrowth of the Cactus Network, a graphic design mail art extravaganza—and the hard work of maintaining democratic relationships.

Essays and design:

Louise Sandhaus, while in residence at the Jan van Eyck Akademie in Maastricht, conducts a verbal/visual exploration of the verbal/visual possibilities of the digital essay.

A creative essay by Brian Schorn loosely introduces the OULIPO (OUvroir LIttérature POtentielle), the "workshop of potential literature." Brian's essay is designed by Simon Letherland and Andrew Slatter of Ravensbourne College.

Anne Bush, from the University of Hawaii, writes about the history of the critic, the audience and public dialogue, situating and critiquing current notions about the role of criticism in graphic design. Her essay will be designed by Russ Bestley, a student at the University of Portsmouth.

Stuart McKee, a graphic designer in San Francisco, explores the relationship between writing and community formation, with a look at the graphic design community and the writing that gives shape to its public face. Brad Bartlett, a student at North Carolina State University, will design the essay.

In a manifesto entitled, "A Few New Principles of Typography," Felix Janssens, a graphic designer in Rotterdam, looks at conventional book design as an extension of 17th and 18th century Enlightenment ideals and extols the need to reconsider the form of the book in the context of late capitalism.

Gerard Mermoz, a typographic historian and theorist in Coventry, UK, calls for more thorough theoretical investigations into the many voices and functions of texts as they are given typographic form.

Lisa Koonts, a graphic designer from Raleigh, North Carolina, discusses over coffee how the languages we use shape the possibilities we can imagine in the worlds of graphic design.