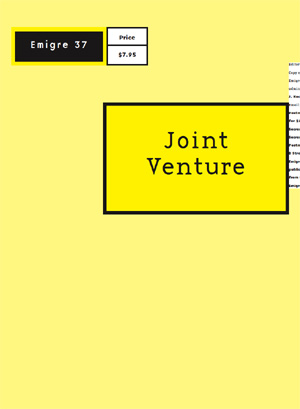 (Slight scuffing along spine. Otherwise near mint condition.)

This issue is about collaboration, writing, intellectual property, entrepreneurialism, poetry, authorship, self-publishing, reading and everything else that design is made of, but this time we look at it from the perspective of a group of artists that includes two writers, one graphic designer and one visual artist.

Anne Burdick interviews graphic designer Stephen Farrell and poet Steve Tomasula.

Rudy VanderLans talks with poet/performance artist Daniel X. O'Neil and Dutch visual artist Marc Nagtzaam.

The entire issue is typeset in Zuzana Licko's text fonts Base-12 and Base-9, and is presented in a surprising new format.