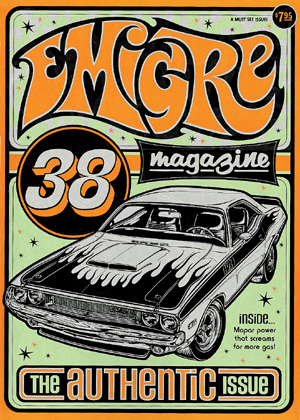 Zuzana Licko's new typeface, Mrs Eaves, can be seen in full use in this issue of Emigre titled "The Authentic Issue."

Also included in this issue are: "Letter Forms and Lexicons," a typographic experiment created by Sue LaPorte that exposes both the similarities and differences between the design of practical and conceptual typefaces.

Steve Tomasula, Daniel X. O'Neil, Matt Dinerstein (photographer) and Stephen Farrell explore historical and geographic links that crisscross through the meticulous pulverization of one individual's handwriting and its resurrection in digital form. This whole project explodes one moment, one event, in a particular time and place—a 1601 Florentine death list recorded by an anonymous clerk—as it passes through another event, the mimicking of this documentary handwriting as a digital typeface.

Margot Johnson's award winning project "Hybrid Digital Typefaces" challenges the tradition of hand-rendered type by using technology and applying mathematical variables to existing typefaces. The resulting library of fonts, created in 1993, can be considered as both the wellspring and final word in random type manipulation.

John Downer and Rudy VanderLans, in accompanying articles, discuss aspects of digital type design. In "Copping an Attitude" VanderLans focuses on how recent technology has accommodated the creation and manufacture of hundreds of new typefaces and dozens of upstart type foundries but has increasingly obscured the boundaries of inspiration and piracy, while Downer looks at the ethical, moral and technical aspects of creating typeface revivals.

"Wondering what that cloud of dust is on the horizon? It's Ed 'Big Daddy' Roth's Fink Fonts collection roaring into Delaware from the dusty salt flats of Utah." House Industries gives us a behind the scenes look at their foundry of types which are guaranteed to "give your layouts more boost than a Hemi with nitrous injection," and "are easier to install than a set of teardrop bubble windows." Check it out!

Finally, Andrew Blauvelt in the article "Desperately Seeking David" ponders how the "Death of the Author" has given rise to the dubious status of the "Designer as Auteur."