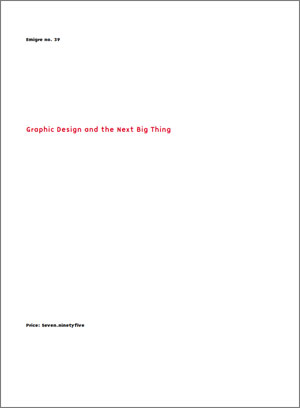 As we are standing on the brink of yet another significant shift in how we will communicate and process information, this issue of Emigre zooms in on the discussions that have become the more interesting part of the hype surrounding electronic publishing and its facilitator the Internet.

Taking our cue from the conference 101: The Future of Design in the Context of Computer-Based Media held at the Jan van Eyck Academy in Holland in late 1995, Emigre 39 further explores this conference's topics.

Lorraine Wild, the main speaker at 101, gives us an overview of graphic design education in the United States and the way it is currently being challenged by new media. She raises the question whether our current understanding of graphic design helps or hinders us prepare for the onslaught of one of the most sweeping changes in communication yet.

Carl Francis DiSalvo reviews Avital Ronell's The Telephone Book. Published in 1989, The Telephone Book utilized novel text formatting structures, creating an object of discourse that would create a new standard for reading.

In the essay "Alien Travels," Putch Tu finds herself on a train with two well-known New York designers discussing geeks, freaks, cyborgs, blenders, power tools, remote controls, and other nervous machines and how it all relates to graphic design.

Kenneth FitzGerald, in a review of Elliott Earls's enhanced CD Throwing Apples at the Sun, gives rise to the Prosumptive Designer. His review spotlights the possibilities for designers to "clear a wider space for their activity."

Diane Gromala reviews Sven Birkerts' book The Gutenberg Elegies, a book that ponders the "Fate of Reading in an Electronic Age," while multimedia artist David Thomas (of Pere Ubu fame), in his essay "It Bytes" boldly suggests that "Multimedia will never go anywhere until the amateurs take over..."

Introduction by Rudy VanderLans.