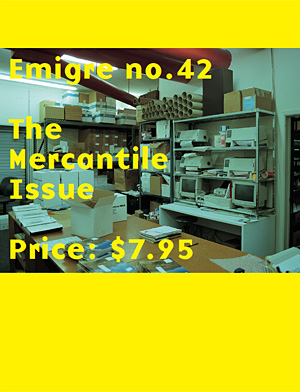 There is a romanticism to small scale publishing. First, it allows for creating work without much compromise or concern for being misunderstood—it facilitates risk taking and experimentation. And, second, by publishing material of a more open-ended nature, a dialog with the audience is easily generated. While there are numerous other factors—both logistical and practical—that make small scale publishing enjoyable, we never stopped wondering about the potential size of Emigre's audience. Would more people buy the magazine if it were cheaper? Would our circulation increase if we gave our resellers better terms? Or was our small but dedicated readership simply the result of the magazine's esoteric nature? Perhaps, but if our "pass-along" readership is any indication, the number of people seemingly interested in what we publish far exceeds the number of copies we sell.

Since publishing literally means "to make public," we wondered if our method of publishing was simply defeating its own purpose. With Emigre 42, we hope to challenge that idea by introducing two significant changes. First, we have opened the magazine to advertisers and have increased the presence of our own products. And second, we have made the magazine free to qualified people on the Emigre mailing list.

Articles include: "Design(er) Type or Graphic designers who design typefaces (and the typographers who forgive them) by Mr. Keedy; "Decay and Renewal in Typeface Markets: Variations on a Typographical Theme," by Alan Marshall; "On Classifying Type" by Jonathan Hoefler; plus "Walking in the City," a review by Andrew Blauvelt of the graphic design exhibition Mixing Messages: Graphic Design and Contemporary Culture.