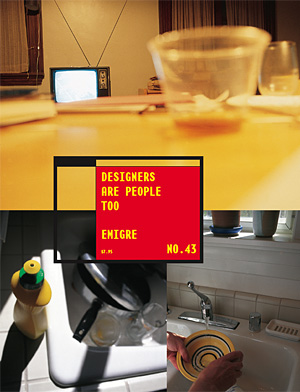 Selling out, greed, exploitation, piracy—the dark side of design is explored in this issue and no stone is left unturned. Mr. Keedy lets it rip in "Greasing the Wheels of Capitalism with Style and Taste or the 'Professionalization' of Graphic Design in America," while Denise Gonzales Crisp in her article "Out of Context: Entrepreneurs, Designists and Other Utopians" looks at what designers (can) do to circumvent the traditional and often compromising client/designer relationship.

Also, Teal Triggs and Sian Cook, of the London-based Women's Design + Research Unit, revisit the seemingly unchanged role of women as both subjects and objects in graphic design.

Finally, Rudy VanderLans takes a closer look at type as intellectual property in his richly illustrated essay "The Trouble with Type."

Also enclosed is a pull-out poster design project titled "Space Probe: Investigations into Monospace," introducing the new Emigre font Base Monospace.