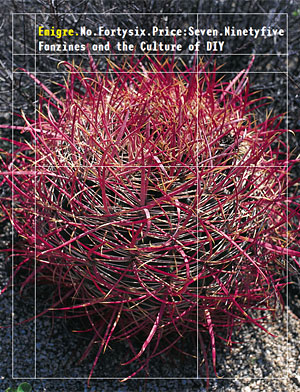 (Near mint condition.)

As more and more designers start their own magazines and become initiators of graphic products, instead of solving "problems" for others, we thought it might be inspirational to take a look at the world of fanzines and other graphic Do-It-Yourself projects.

Teal Triggs gives us an insightful and considered history of the British fanzine, while Bill Gubbins, magazine man extraordinaire, in a "modestly hysterical digression," gives us his take on their US counterpart.

Also, Emigre's very own sales diva, fanzine junkie, and one time Punk rock drummer, Ella Cross, picks her favorite zines, and Daniel X. O'Neil delivers nothing less than a glimpse of the future of fanzines, which looks much better than you think, as long as you really think.

And from the horse's mouth comes the only true fanzine story in this issue, the inside story of Heckler, a zine gone big time and back, sort of, as told by co-publisher and DIY design man John Baccigaluppi.

Besides fanzines we also look at some graphic designers who, like fanzine publishers, have taken publishing into their own hands. Orangeflux, a two-person company in Chicago, would like us to consider design as the end all product. Their self-produced project Rust Belt is analogous to an indie band releasing its own record. From its format (the project is packaged like a vinyl record), to the way they are promoting and distributing it, Rust Belt thumbs its nose at both the designer/client relationship as well as the conventions of graphic design's function.

And we look at two recent projects by Thirst—the first issue of their self-published magazine [****], and The Good Life, an artist publication made possible by the Friends of Gilbert Paper. While the latter isn't exactly self-published, it is self-initiated and completely authored by Thirst. So we couldn't resist commenting on it considering the context of this issue. Of course, we didn't want to deny our own creative impulses, particularly when confronted with Valicenti's phantasmagoric output. So the review of these two Thirst projects, written by Denise Gonzales Crisp, is not your run-of-the-mill treatise.