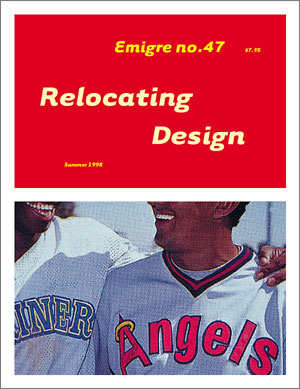 As the future of graphic design remains uncertain, where to locate design continues to be a hotly debated topic. Mr. Keedy, in his latest article "Graphic Design in the Postmodern Era," points out the lack of critique within design and the general willingness of designers to have their "values and ideals be dictated by the commercial marketplace."

In her article "The Macrame of Resistance," Lorraine Wild suggests ways to "salvage graphic design in the face of the juggernaut of technology and the demands of the market." Individual vision and invention are high on her list as ways to remedy the ills of the profession. Her thoughts are echoed in a letter sent in by Mike Schmidt, which is published in the "Readers Respond" section.

Also in this issue is an interview with Michael Shea, whose articulate and critical letters have adorned the "Readers Respond" section in the past. He takes this opportunity to expound on what he perceives as the disconnect that exists between theory and practice, and the maker and reader, in graphic design.

Furthermore, Denise Gonzales Crisp presents her final installment of "Speculations," which she started in Emigre 46, while Zuzana Licko offers us her latest typeface design, Tarzana. It gets its first test drive here, throughout Emigre 47.

And, last but not least, Stuart Bailey travels around the world searching for some words of wisdom and feedback from fellow designers regarding the precarious idea of chance as a method for design.