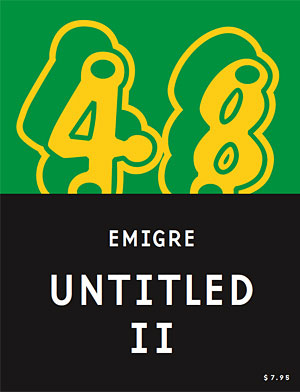 Mother Jones magazine recently decided to upgrade their image and Emigre gets the inside scoop on the politics of the redesign from art director Rhonda Rubinstein.

Then, graphic designer Stuart Bailey allows us a peek behind the scenes in the creation of the Werkplaats Typografie, a brand new experimental graduate design program based in Arnhem, Holland.

Also, Kenneth FitzGerald, in his essay "Skilling Saws and Absorbent Catalogs," points out how art and design have come to rely on each other, and how graphic designers may learn from the symbiosis.

Also enclosed, as a special 32-page addendum, is "A Brief History of Type Design at The Apollo Program." This type specimen booklet introduces seven new fonts, all of which were produced and designed by Elliott Earls and are made available exclusively through Emigre Fonts.

Finally, it is ironic that while graphic design is going through one of its bland periods, Emigre has never received more reader mail. The "Readers Respond" section in this issue counts a whopping 13 pages! We do not understand the true significance of this trend, but it is safe to say that the stereotype of the illiterate graphic designer is rapidly evaporating.