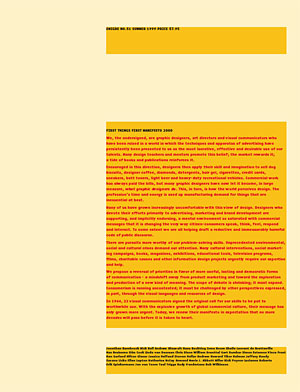 Graphic designer Stephen Farrell and writer Steve Tomasula with Jiwon Son will present their third collaboration for Emigre titled "Inhabiting Forms: Visible Citizens." Their project inspects the various items and conditions of a 1920s bungalow in Chicago where Farrell recently moved.

Matt Owens explores the "creative endeavor" and its pitfalls in a project titled "Deep End," which will be simulcast on his www.volumeone.com web site.

Elliott Earls of the Apollo Program submits the fifth in a series of portraits entitled "Gangsters and Their Effect on my Soul."

Katherine McCoy, Lewis Blackwell and Philip Meggs pay tribute in words and pictures to the groundbreaking work of graphic designer and multimedia artist P. Scott Makela who recently passed away.

Rudy VanderLans presents "A Topography of the California High Desert" which features an extensive collection of photographs featuring signs, posts, markers, pointers and dwellings found in the Mojave desert, enriched with the poem "'81' Poop Hatch" by Don Van Vliet (A.K.A. Captain Beefheart).

Andreas Lauhoff offers an extract of his MA project created at Central Saint Martins in England. The project illustrates the concept of speech-recognizing letterforms which add oral parameters on the rather static notation of type.

Shawn Wolfe introduces another Beatkit product.

And, Emigre 51 features the newly re-issued First Things First Manifesto 2000 with an accompanying essay about the history of the manifesto by Rick Poynor.