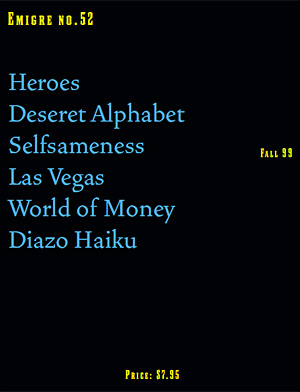 This issue kicks off with the readers' response to the First Things First Manifesto 2000. Some strong opinions are voiced, with many skeptical of the manifesto's worth.

Also, now that the dust of the AIGA conference in Las Vegas has settled, and our infatuation with this city's visual attractions has been fully satisfied, Emigre takes a look at what it means to live in a place like Las Vegas and what impact its commercialism and no-limits architectural development has on its environment. Featurng the essay "Las Vegas versus Nature" by Mike Davis.

Further, a few recurring themes can be found in this issue. After Andreas Lauhoff's "Speech-recognizing Letterforms" project in Emigre 51, here we publish another radical typographic experiment played out nearly 150 years ago by no one less than Mormon prophet Brigham Young. The Deseret Alphabet, which would easily fit in any contemporary experimental typography publication, was commissioned by Young in the 1850s. It must have been an exciting time when a person could actually think it possible to reform the written English language. Young thought it possible in 1850. What it looked like, and how it fared, can be seen in this issue.

We also continue with Elliott Earls's series of portraits titled "Gangsters and Their Effect on My Soul." He pulls out all the stops and harks back to his childhood days as an aspiring illustrator.

Also present is the work of Bob Dahlquist. His haiku-like type poems, which usually litter his Sacramento house in various stages of (dis)assemblage, found their way onto these pages in a completed form presented as a visual documentary designed and art-directed by Dahlquist himself.

From Holland comes the work of the Experimental JetSet, who give us a deadpan rundown on the World of Money as we approach the year 2000.

And Ryan McGinness, after recently publishing the critically acclaimed book flatnessisgod, presents "selfsameness," a series of pages exploiting his own persona.