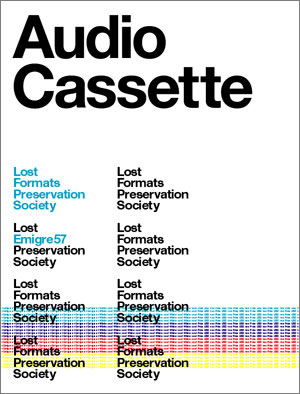 (Mint condition.)

In an age when the boundaries of geography, gender, vocation, style, art and politics continue to bend and blur, no area has gone through as rigorous a transformation as the physical storage of data, leaving in its track a slew of obsolete formats.

Designed and edited by Amsterdam's Experimental Jetset, Emigre 57 is an homage to lost formats—a celebration of customized mixtapes, obscure computer discs, and forgotten standards. The issue, while questioning its own physical manifestation as a magazine, reminds us how once each format used to contain its own specific data, while today the CD/DVD format is capable of containing ALL data, setting the stage for the final step, the mythical non-format.

Produced in Experimental Jetset's trademark graphic approach of understated lyricism, Emigre 57 contains essays by Purple magazine editor Jeff Rian, Greek architect Andreas Angelidakis, NY/LA-based artist Miltos Manetas, and Ian Svenonius, the singer of the Washington DC band The Make-Up.

Also included is a visual contribution by Delaware, a Tokyo-based pop band/design studio, who juggle traditional formats by presenting their song lyrics in the style of The New York Times.