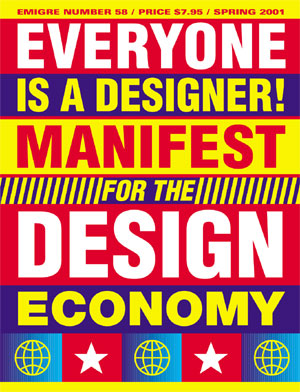 Will the Internet of the future be nothing more than enhanced television with buy-now features? Is it destined to become no more than another leisure and commerce medium, or can it be steered away from this fate by designers, taking it to surprising or educational directions?

In this manifesto, designers, critics, and multimedia specialists such as Kevin Kelly, Max Kisman, Steve Heller, Aaron Betsky, Dejan Krsic, Lies Ros, Janet Abrams and Dagan Cohen express their opinions in sharp, thought-provoking questions and declarations. In a social milieu continually transformed by computers and communication technologies, can design make a difference? Has interactive design lost its battle against interface ignorance? Are we faced with a future in which our bodies will be the interface?

Rich in magic formulas, "Everyone is a Designer" is meant to inspire new creativity. Originally designed and produced as a small limited edition book, Dutch designer Mieke Gerritzen (NL-Design) gets a second shot at presenting her impressive visual statement by redesigning the book's pages to fit the Emigre magazine format.

Then, Elliott Peter Earls, the master of mixing messages and bending boundaries returns to keep us abreast of his graphic wanderings around the globe in the second installment of his "Notes from a Kultural Backwater."

And, as usual, the "Readers Respond" and voice strong opinions about the role of graphic design and Emigre's place within it.

Finally, a 32-page type specimen booklet will be included with this issue, introducing a new Emigre font named Dalliance. Designed by Frank Heine (creator of Remedy and Motion), Dalliance is a family of 9 fonts inspired by the elegant handwriting found on an antique map depicting the battle that took place at Ostrach, southwest Germany, in 1799.