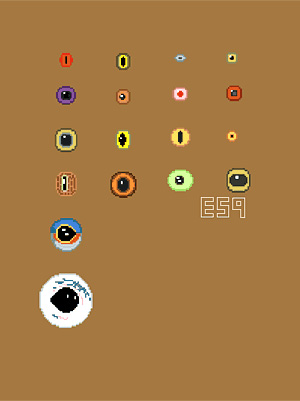 Emigre 59 is a unique design collaboration between San Francisco based design team Fake I.D. and Emigre's Rudy VanderLans and Zuzana Licko. The issue is created around the critical essays of Rick Poynor and Chris Riley, with design concepts and illustrations by Fake I.D.'s Joshua Trees and Yvan Martinez, typographic treatments by VanderLans, and introducing new bitmap font designs by Zuzana Licko.

In his article "Sustainable Consumerism," Chris Riley, who is the Chief Strategic Officer at Wieden + Kennedy, gives us an alternative look at branding. He explains how major brands must connect with the social, cultural and environmental concerns of their target audiences in order to sustain brand loyalty.

Rick Poynor, design critic and founding editor of Eye magazine, in his article "First Things Next," revisits the First Things First Manifesto 2000. He gives us an overview of the impassioned and seemingly never-ending response the manifesto has generated since it was republished in 2000. Poynor sorts out the many differing opinions with input from design activists and manifesto signatories such as Milton Glaser, Jan van Toorn, Katherine McCoy and others.

Zuzana Licko also revisits a previous idea, this one with its roots in the mid eighties. Her latest project, the Lo-Res family of fonts, is a synthesis of pixelated designs, including Emigre's earlier coarse resolution fonts, as well as bitmap representations of Base 9.