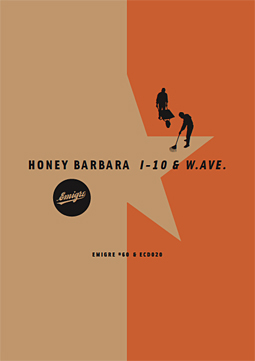 Emigre is on the move again. With this issue we have changed our magazine format and editorial direction by selecting a compact disc as the main content.

We're proud to start off this next phase of the Emigre magazine saga with the release of Honey Barbara's second album I-10 & W.AVE. Years in the making, and created in near solitude deep in the heart of suburban San Antonio, these eccentric Texans, who do not tour nor make videos, and who are stubbornly non-commercial, produce music simply to keep their sanity.

I-10 & W.AVE. is presented in a custom made cardboard package (6 x 8.5 inches) which also holds a 64-page mini magazine featuring a number of graphic and typographic projects—visual remixes and previews (singles?) of recent and upcoming Emigre Music releases.

Typeface design and development remains central to our activities. With this issue we continue to use Emigre magazine as both a testing ground for new fonts—such as Los Feliz designed by Christian Schwartz—and as a type specimen for our existing library of typefaces.