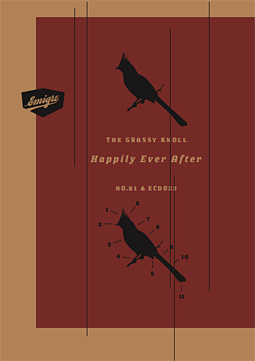 This is the second issue of Emigre magazine in a series intended to expose alternative music and linking it with graphic design. Our main content is provided by The Grassy Knoll's Happily Ever After. This project is a curiosity. After we first heard their demo tape in 1992—and included their music on the Emigre Music Sampler No. 1—The Grassy Knoll did have a brush with the powers-that-be. But their music is a difficult sound to classify, which is probably why their commercial success was short-lived. "Why don't you add vocals?" is a suggestion they've probably heard one too many times.

We think The Grassy Knoll's music can hardly be improved upon and we're proud to release their CD as it's meant to sound. The only thing that could make Happily Ever After any better is a great movie to accompany it, but it requires only that you close your eyes while playing this CD, because their soundscapes will cause images to flow from your mind effortlessly.

To create our own backdrop and to connect the music to the magazine, we hooked up with Thirst's Rick Valicenti, whose collaborative studio has been working on a soon-to-be released book (by Monacelli Press) remixing Thirst's unique graphic history. Valicenti opened up his digital and analog flat files to us, and we plundered his treasure-trove of experimental and random graphic images and found what we feel are perfect matches to accompany the tracks on the Happily Ever After CD. For those having trouble setting their minds free, perhaps these images can help kick-start your full enjoyment of the sounds of The Grassy Knoll.

Introduced in this issue of Emigre is Los Feliz, a new typeface designed by the young and upcoming type designer Christian Schwartz.

Finally, Zuzana Licko will give an overview of the retooling and upgrading of her best selling Mrs Eaves typeface.