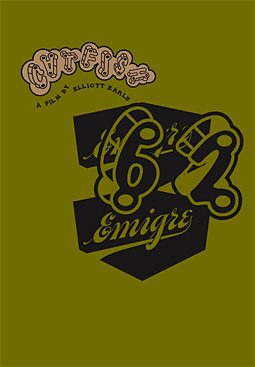 Elliott Earls presents Catfish, a designer monograph in feature film format.

Catfish (The Eye Sling Shot Lions Chronicle) is a 55 minute tour de force providing the main content of Emigre 62. The film fuses together Earls's ventures into uncountable disciplines including graphic design, music, poetry, criticism, performance art, writing, type design and more. Earls work is best described as American culture put through a blender, and the use and misuse of the different media he employs shows us what lies beyond the obvious.

Earls is a long time Emigre collaborator. He is the current head of the Graphic Design department at Cranbrook Academy of Art, and former artist in residence at Benneton's Fabrica in Italy.

Catfish is presented on DVD and is playable on most consumer DVD players and on any computer equipped with a DVD player and appropriate software. The DVD is presented in a custom made cardboard folder. Also included is a 64-page Emigre magazine featuring the typeface designs of Elliott Earls, the introduction of the OpenType version of Zuzana Licko's best selling typeface Mrs Eaves, the new additions to the Cholla family of fonts designed by Sibylle Hagmann, and an essay by Kenneth FitzGerald on the value of independent publishing.