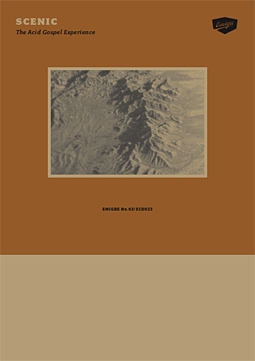 With this issue we turn once again to a long-time Emigre collaborator. This time, however, we hope to expose a different dimension of his work.

Bruce Licher is known mostly for his unique music packaging designs (See Emigre 16 and 55). His hand-printed letterpress covers have earned him two Grammy award nominations and have been featured in major design magazines and exhibitions around the world.

Lesser known (particularly to graphic designers), but just as distinctive, are Licher's ventures into music with his band Scenic. For years Licher has integrated design and music, and we are eager to share with you the aural dimension of his work.

In collaboration with Independent Project Records & Press, we are proud to announce the premiere release of The Acid Gospel Experience, Bruce Licher's new Scenic CD. This is the fourth and also concluding release in a series of audible Emigre issues.

Accompanying the CD is Emigre magazine 63, whose content was largely determined by Scenic's evocative music. This time, we invited three artists to each select or create work underscoring the theme of landscape. Designer/illustrator Charles Wilkins, photographer Jason Fulford and painter Shelley Hoyt provide the images.

Also, Zuzana Licko presents her first new typeface design in nearly two years. Fairplex, a sixteen font family, has been a long time in the making. It was inspired by features found in models ranging from the San Francisco Giants logo to Garamond. With tapered serifs that become more distinct and decorative as size and weight increases, and an overall low contrast, Fairplex is designed to function as both an animated headline font and highly practical text face. We're subjecting it to its first road test in the packaging and design of this issue of Emigre.