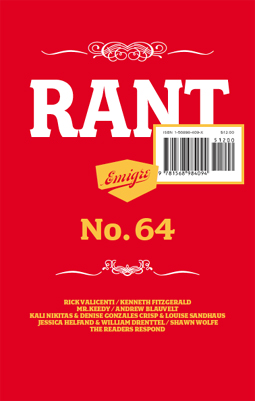 (Mint condition.)

For almost twenty years, and over sixty issues, Emigre has been a sourcebook of ideas, fonts, images, work, products, and even music for an entire generation of designers who learned their craft in front of a screen, mouse in hand, and headphones plugged in. Emigre also provided an essential platform for in-depth writing on design by young and upcoming writers. But now, Emigre asks: are today's young designers writing passionately enough about what they do?

Acting as agent provocateur in "Rant," Emigre invites designers, teachers, and critics whose writing defined graphic design in the 90s, and who were first published in Emigre—including Jeffery Keedy, Rick Valicenti, Shawn Wolfe, Kenneth FitzGerald, Denise Gonzales Crisp, Kali Nikitas, Louise Sandhaus, and Andrew Blauvelt—to challenge today's young designers to develop a critical attitude toward their own work and the design scene in general. Rant also signals another transition in the format of Emigre, away from its recent incarnation as an aural/visual showcase magazine toward a return-to-roots series of "pocketbooks" focusing on critical writing about the state of graphic design. Anyone interested in contemporary design will want to put a copy of "Rant" in their pocket.

Co-published by Princeton Architectural Press.