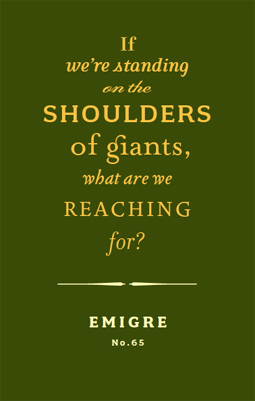 (Mint condition.)

In this second issue of Emigre presented in our new book format we return to some topics that are close to our hearts.

We look at the phenomenon of Helvetica, and the fact that this nearly 50 year-old sans serif is currently one of the three best selling fonts at many of the world's largest font distributors. But, as ten different designers tell us, not everybody is using it for the same reasons. Featuring interviews with Experimental Jetset, Michael Bierut, Ian Anderson, Michael Cina and others.

We are reprinting the article "Legible?" which was published in Emigre 23 and written by the well-known Dutch type designer Gerard Unger. This is the first reprint from a previous issue ever. Rudy VanderLans explains why.

Elliott Earls, who is not your garden-variety type designer and has some very specific ideas about how to draw type, gives us his unique outlook on what matters most when designing a typeface.

We interviewed Rob Giampietro, who has coined the term "Default Systems Design" to describe a particular type of design that is rapidly spreading and is begging to be put under a microscope.

Meanwhile Cranbrook design graduate Joshua Ray Stephens suggests that design styles are not where the action is.

Also, we are featuring four short essays written in reply to our previous issue: Mike Kippenhan addresses graphic design's aversion to criticism and suggests we look at American Idol as a model to kick-start the comatose state of design inquiry; Patrick Fox tells us how pro bono work can keep an out-of-work graphic designer from committing desperate acts; Anthony Inciong ponders the responsibilities of graphic design education in an age defined by style and technology; and, finally, Armin Vit fires off a short essay in reply to the challenge put forth by the "old cranks" in Emigre 64. He may not be speaking for an entire generation of young and upcoming graphic designers, but we have a suspicion many of his contemporaries will agree with what he has to say.

Co-published by Princeton Architectural Press.