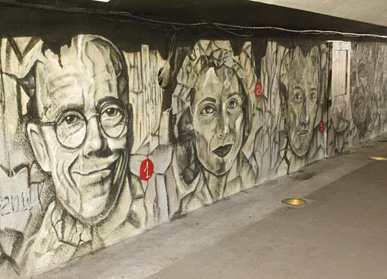 Big in Romania 07.24.2012

We've come to accept the fact that as type designers we spend our life wallowing in obscurity and rarely receive public recognition for the work we do. So imagine our surprise when we received this photograph from our good friend and fellow type designer Peter Bilak, who stumbled across this graffiti mural in the Romanian city of Timisoara. Featuring Erik Spiekermann, Zuzana Licko, Peter Bilak, and we believe Herman Zapf. Viva La Type Revolution!










Emigre Newsletter
You can add yourself to the Emigre Newsletter emailing list. We use the Emigre Newsletter to help keep you informed of new products, services, and special limited offers.