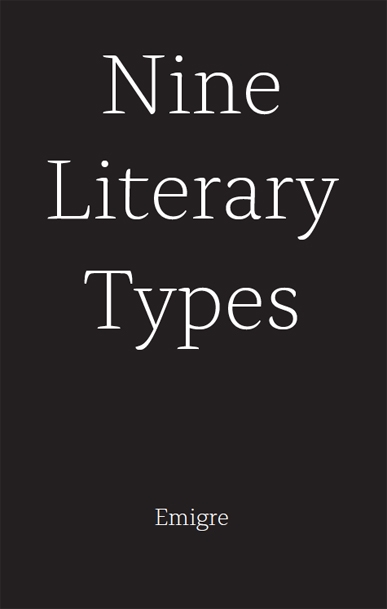 Nine Literary Types 04.26.2015

Sign up now to receive a FREE copy of the new 64-page Emigre type specimen Nine Literary Types! You can pre-order a free offset printed copy, which will be mailed to you in mid May (Within U.S. Only). Or, if you can't wait, you can download a free PDF version right now.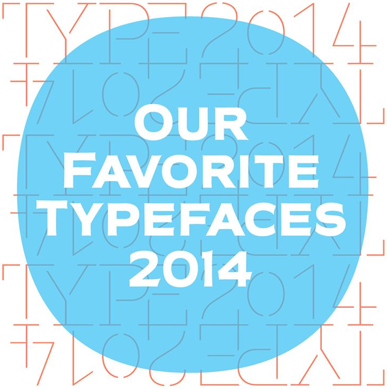 Cardea Among 2014 Favorites 03.22.2015

We are super proud to see David Cabianca's Cardea typeface among Typographica's Favorite Typefaces of 2014. Check out the wonderful review of Cardea by Jon Coltz.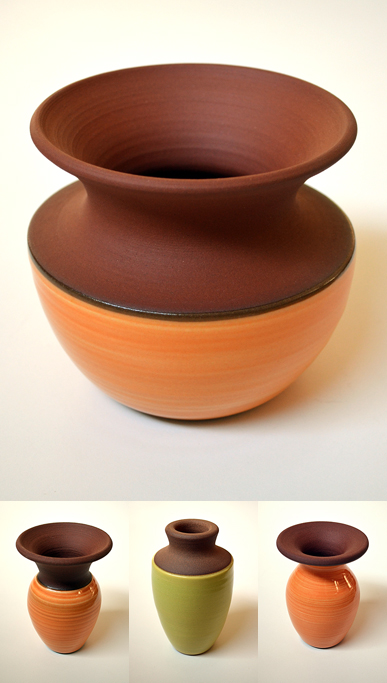 Handmade Ceramics by Zuzana Licko 02.03.2015

A new collection of handmade ceramics by Zuzana Licko is now available. These one-of-a-kind vases are offered in a variety of colorful glazes applied to various shades of stoneware. Heights range from 2.5 to 8 inches.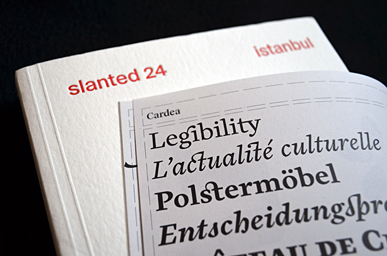 Cardea Making Waves 12.22.2014

David Cabianca's Cardea typeface is finally getting much deserved notice and is making waves. It was featured in the latest issue of the excellent German design magazine Slanted, and it was picked as one of FontShop's top 25 typefaces of 2014.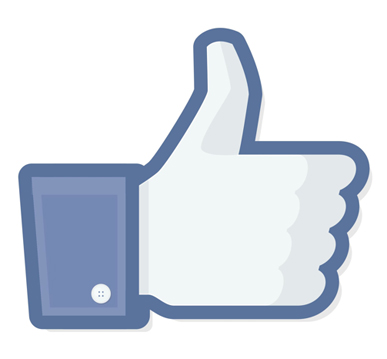 Emigre on Facebook 12.17.2014

We know, we know, we're late to the party, but we finally created an Emigre Fonts Facebook page! If you're done looking around here, check it out and like us there. We're posting lots of blasts from the past and other visual treats.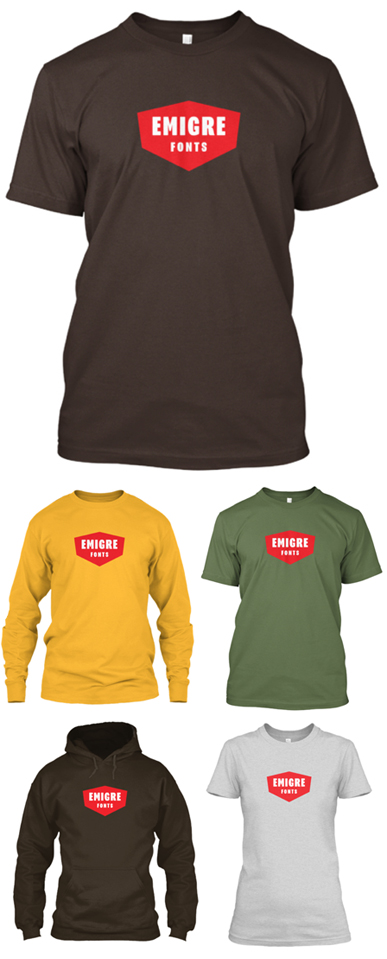 Emigre Fonts Wearables 10.27.2014

We're joining up with Teespring once again to offer a new wearable design. Show off your love for typefaces with Emigre's bold new Emigre Fonts logo shirts. Men's and women's Tees, Hoodies and Long Sleeved Shirts for every type of weather in a variety of colors. Prices range from $15 - $30. This campaign will end Wednesday, November 19th.

If you hurry, you can also still order the Design is a Good Idea shirts thru Tuesday, November 4th.







Design is a Good Idea - Premium 10.15.2014

After our first "Design is Good Idea" campaign with T-shirt manufacturer Teespring, we received many requests for additional shirt styles, so we launched this Premium campaign to include high quality women's tees, v-neck tees, tank tops, long sleeved shirts, and hoodies. Prices range from $18 - $30. This campaign will end Wednesday November 5th.

If you hurry, you can also still order the basic version of the "Design is a Good Idea" T-shirt thru October 19th. Hanes Tagless Tee $12.







Revolution/Evolution 09.28.2014

Some 30 issues of Emigre magazine are featured in the exhibit "Revolution/Evolution" at the College for Creative Studies In Detroit.

The exhibition documents the "Revolution" that started transforming design in the mid 1980s. The then new digital tools and a shift in the perceived role of design within the culture informed the designer's radically new visual solutions. Elements of theory and the use of digital as the medium decidedly changed the surface of the artifact but not the vehicle, ink on paper.

"Evolution" includes recent work by designers where the invisible, the underlying system, is as important as the visible. Equally important to a segment of the work is how user involvement allows for constantly changing, mutable solutions. The designer creates the parameters and the user creates endless variations.

Includes projects by Danny Yount, Elliott Earls, Studio Dunbar, Trapped in Suburbia, Ed Fella, April Greiman, LUST, Studio Moniker, Typotheque, and many others.

Sept. 8 to Oct. 3, 2014, Valade Gallery, Taubman Center, Detroit, MI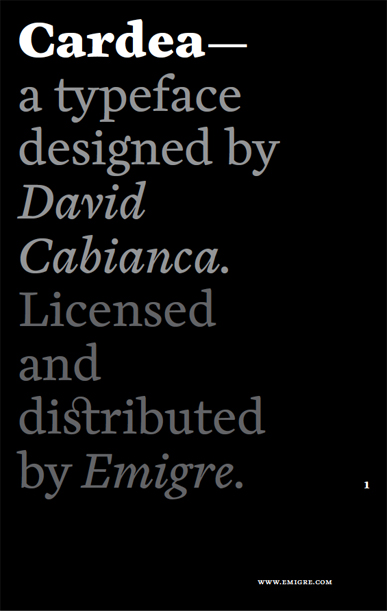 Free Cardea PDF Catalog 09.22.2014

The Cardea family of typefaces is given its first serious test drive in this 32-page type specimen catalog designed by Emigre's art director Rudy VanderLans.

Cardea is the outcome of David Cabianca's 2003–04 MA Typeface Design experience at the University of Reading. Cardea was designed to function as a text face. It is characterized by high contrast, subtle curves and crisp edges to create a typeface that is not shy to sparkle on the page while appeasing the reader with remarkable readability. It features three weights, each with accompanying italics, small caps, and a large variety of ligatures and numerals, making it an excellent typeface for setting lengthy texts in books, journals and annual reports.

You can download a FREE copy of the Cardea catalog here.







UNIQLO Loves Emigre (II) 08.27.2014

After releasing a series of tote bags and caps brandishing Emigre fonts, UNIQLO, the Japanese apparel outfit, has released a new line of long-sleeved T-shirts based on the designs of Emigre's popular type specimen covers. Check out the complete collection. They are available in UNIQLO stores worldwide or can be ordered on the UNIQLO website.










Emigre Newsletter
You can add yourself to the Emigre Newsletter emailing list. We use the Emigre Newsletter to help keep you informed of new products, services, and special limited offers.