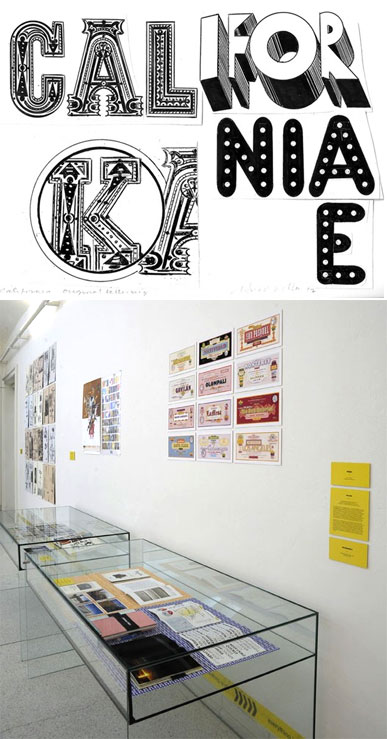 Emigre in Brno 07.24.2012

As part of the 25th International Biennial of Graphic Design in Brno 2012, designer Jon Sueda was invited to organize an exhibit featuring the work of California designers. Instead of creating a region-based exhibition aimed to capture significant work from The Golden State, "Work from California" focusses on "exceptional works that directly interpret or reflect upon California as subject matter. 'Work from California' offers a portrait of America's 31st state through the lens of graphic design. It examines the fascination that graphic designers have with California culture, as well as revealing something of the context, attitudes, and people involved, and the history of the place where the work was made."

We're proud to have our work featured along that of many of our California friends and colleagues such as Bob Aufuldish, Ed Fella (See graphic above), Green Dragon Office, Mr. Keedy, Geoff McFetridge, McSweeney's, Mike Mills, Gail Swanlund, Martin Venezky, and Volume Inc.

The show runs through October 28, 2012, at the Moravska Gallery, Brno.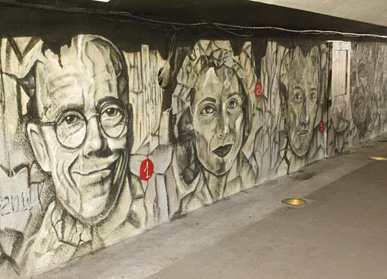 Big in Romania 07.24.2012

We've come to accept the fact that as type designers we spend our life wallowing in obscurity and rarely receive public recognition for the work we do. So imagine our surprise when we received this photograph from our good friend and fellow type designer Peter Bilak, who stumbled across this graffiti mural in the Romanian city of Timisoara. Featuring Erik Spiekermann, Zuzana Licko, Peter Bilak, and we believe Herman Zapf. Viva La Type Revolution!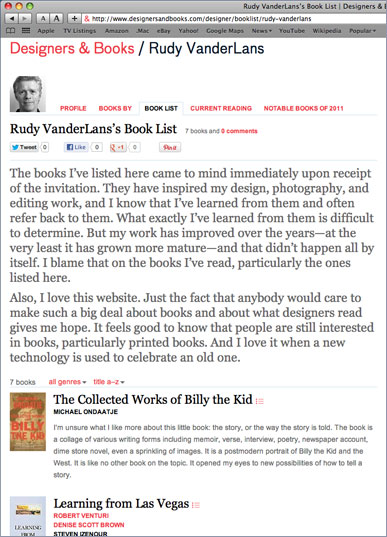 Designers & Books 06.12.2012

Designers & Books is devoted to posting lists of books that esteemed members of the design community have identified as personally important, meaningful, and formative. From Vitruvius to William Morris to Frank Lloyd Wright to Edith Wharton to Le Corbusier to Paul Rand, there has always been a particularly special and robust relationship between designers and books: reading them, writing them, designing them, collecting them, learning from them, and being inspired by them. Designers & Books celebrates that relationship.

Check out the list recently submitted by Emigre's Art Director Rudy VanderLans.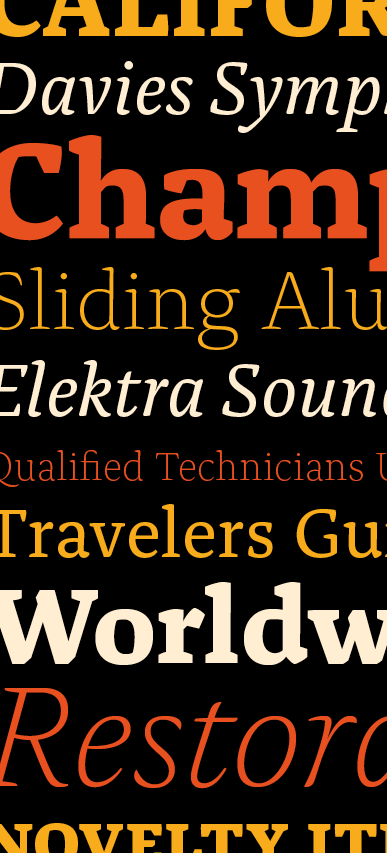 Alda Designer Berton Hasebe Receives Print Magazine Honors 05.22.2012

We're proud to announce that Berton Hasebe, the designer of the Alda type family was selected as one of the "20 under 30" 2012 New Visual Artists by Print magazine. The invitation-only competition introduces and profiles 20 of the most promising rising talents in graphic design, advertising, illustration, digital media, photography, and animation all under the age of 30. Choices are drawn from nominations made by industry professionals.

You can download a free copy of the Alda type specimen as a PDF file.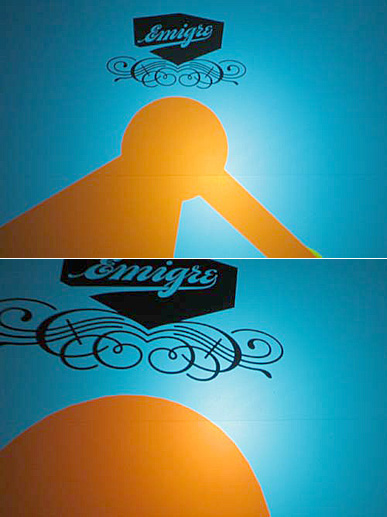 Emigre Sponsors TYPO San Francisco 2012 04.30.2012

TYPO SF was one of the best design conferences we've attended in a long while. And Emigre was smart enough to be a sponsor. It was worth the price just to see our logo, blown-up to gigantic proportions, floating around on the big screen in between presentations (see above).

If you missed the conference, you can check out some of the presentations on the TypoTalks website. And if you missed the new Emigre Type Catalog that was included in the conference's goodie bag, here's your chance to get one for free.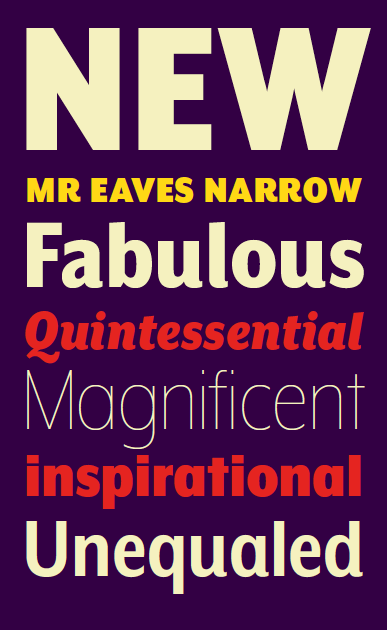 Mr & Mrs Eaves Completed 03.27.2012

Mr Eaves XL Sans & Modern Narrow are the final installments to complete the Mr & Mrs Eaves family of fonts.

Mr Eaves XL Sans Narrow is 20% narrower than the regular Mr Eaves XL Sans with overall tighter spacing. Mr Eaves XL Sans Narrow allows for a wide variety of uses and is perfectly suitable for lengthy text settings. The larger x-height also maintains superior readability at smaller point sizes.

The matching Modern Narrow family, also 20% narrower, provides an overall less humanistic look, with simpler and more geometric-looking shapes, most noticeably in the squared-off terminals and symmetric lower case counters. This family has moved furthest from its roots, yet still contains some of Mrs Eaves' DNA. The Modern Italic is free of tails, and overall the Modern exhibits more repetition of forms, projecting a cleaner look.

Mr Eaves XL Sans Narrow and XL Modern Narrow feature seven weights each with accompanying italics, small caps and alternate characters.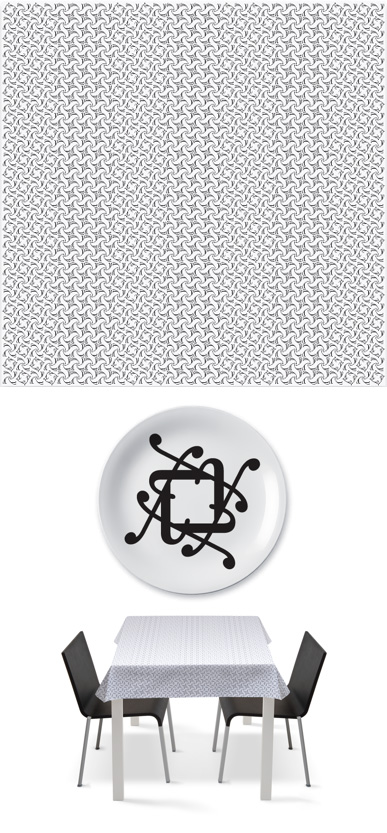 Emigre at Museum of Modern and Contemp. Art in Bolzano, Italy 11.18.2011

Applications of Emigre's Hypnopeadia patterns, designed by Zuzana Licko, were included in the exhibition Typographic Tables at the Museum of Modern and Contemporary Art in Bolzano, Italy. The exhibit featured works by 30 international highly-regarded Graphic Designers, and explored the role of the word, its meaning, its form, and its context in our everyday life. The 30 designers were asked to design a typographic table cloth and dinner plate to create a space to sit around, to eat, and to discuss with your table neighbor. Designers included such luminaries as Ed Fella, Erik Spiekermann, Irma Boom, Büro Destruct, Philippe Apeloig, Helmut Schmid and many others.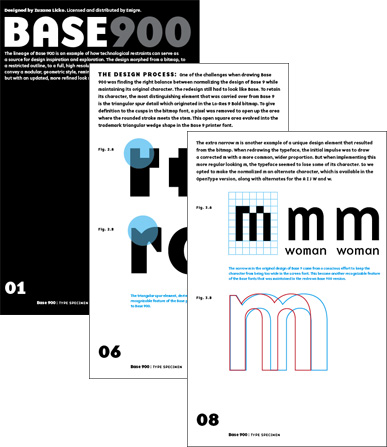 Base 900 PDF Catalog 11.15.2011

To celebrate the inclusion of Base 900 in the Walker Art Center exhibit Graphic Design: Now In Production we have added the Base 900 Type Specimen to our list of free downloadable PDF catalogs.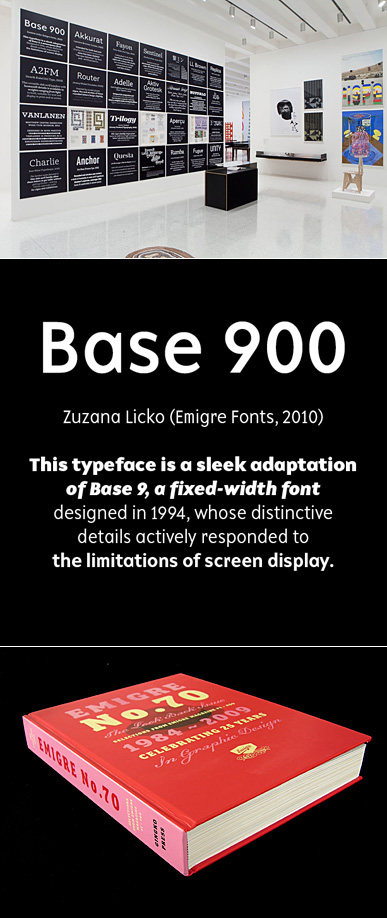 Emigre at the Walker Art Center, Minneapolis 11.11.2011

The Emigre typeface Base 900 and the book Emigre No. 70: The Look Back Issue were selected to be featured in the exhibit Graphic Design: Now in Production at the Walker Art Center in Minneapolis. This major international exhibition explores how graphic design has broadened its reach dramatically over the past decade, expanding from a specialized profession to a widely deployed tool. Graphic Design: Now in Production is the largest museum exhibition on the subject since the Walker's seminal 1989 exhibition Graphic Design in America: A Visual Language History in which Emigre's work was also represented.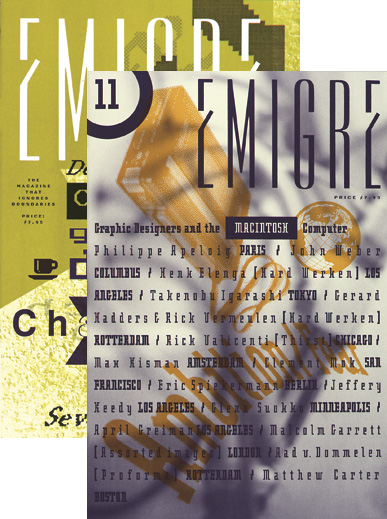 Emigre at Victoria & Albert Museum, London 10.12.2011

Emigre magazine issues #10 and #11 are included in the exhibition Postmodernism: Style and Subversion 1970-1990 at the Victoria & Albert Museum in London. This exhibit, which features work by the likes of Peter Saville, Frank Gehry, Philippe Starck, Robert Venturi, and Ettore Sottsass, sets out to answer the questions "What does postmodernism mean, and where did it come from?" And while some of its participants have tried to distance themselves from postmodernism, Emigre is proud to have been an active participant in this controversial movement which continues to defy definition.

Read Rick Poynor's review of the the exhibition here.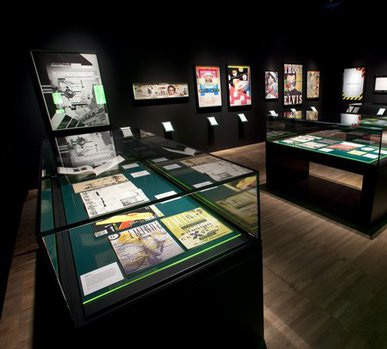 Emigre Newsletter
You can add yourself to the Emigre Newsletter emailing list. We use the Emigre Newsletter to help keep you informed of new products, services, and special limited offers.