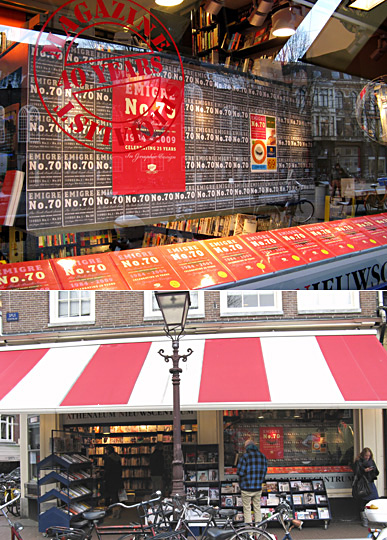 Emigre Book at Athenaeum Bookstore in Amsterdam 01.16.2010

We're super excited to see our Emigre No.70 book take up an entire window at Athenaeum bookstore in Amsterdam. Perhaps the best bookstore in all of Europe, Athenaeum was also the first store in Holland to sell Emigre magazine. Thank you Athenaeum!

Go check them out at Spui 14-16, Amsterdam.








Emigre at Gallery 16 12.19.2009

The design work of Emigre is currently on display at San Francisco's Gallery 16 from December 18, 2009 through January 30, 2010.

The exhibit, which coincides with the recent publication of Emigre No. 70: The Look Back Issue, features a selection of work spanning the entire Emigre enterprise, including a collection of press sheets of Emigre magazine covers, promotional posters for Emigre Music and Emigre Fonts, as well as books, prints, photographs, and much more. A series of six specially designed large-sized digital prints to celebrate Emigre's longstanding relationship with Gallery 16 are also be on view.

Gallery 16, 501 Third Street, San Francisco, CA.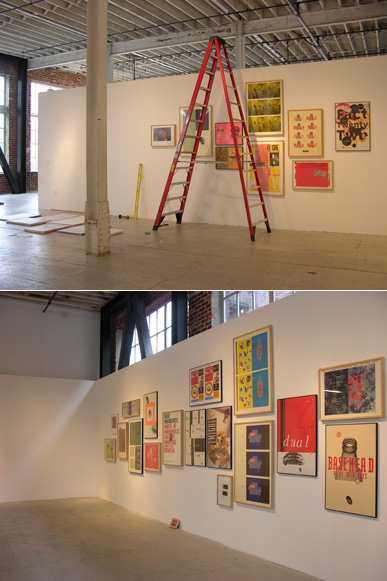 Emigre at Gallery 16 Installation 12.14.2009

Gallery installation in progress. Show opens December 18th, 2009.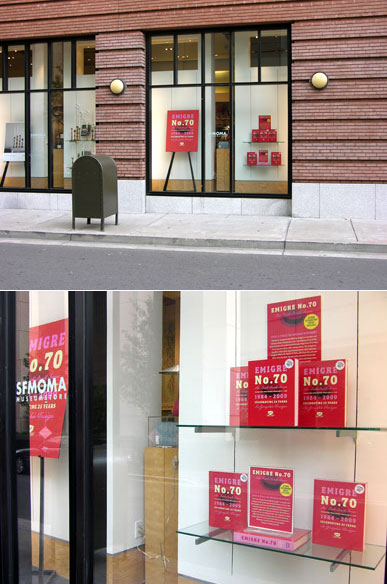 Emigre Book at SFMoMA Museum Store 01.13.2011

Signed copies of the Emigre book are still for sale at the SFMoMA Museum Store in San Francisco.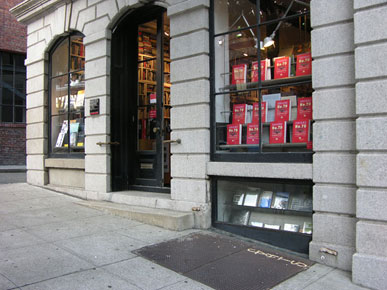 Emigre Book at William Stout 09.12.2009

The newly published Emigre book for sale and on display at William Stout Architectural Books in San Francisco.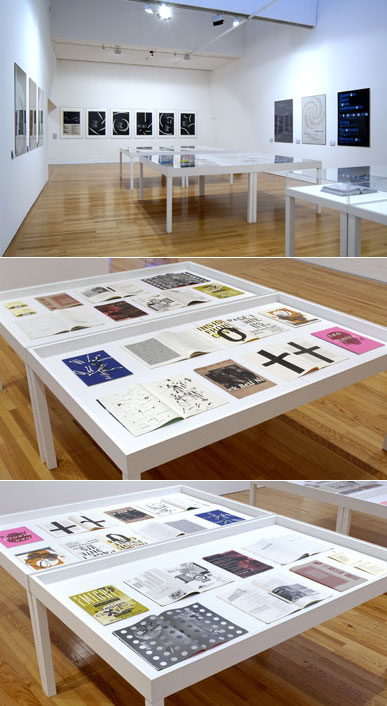 Emigre Magazine at Berardo Museum in Lisbon, Portugal 01.12.2009

Surrounded by Josef Muller Brockman posters and the artist books of Edward Ruscha, Emigre magazine issues #10 through #24 were on display at "Quick, Quick, Slow." This exhibition, an "alternative history of graphic design," was curated by Emily King as part of the Experimentadesign Lisboa 2009 at the Berardo Museum in Lisbon, Portugal. On view through December 31, 2009.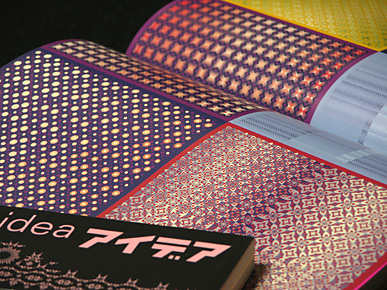 Emigre Featured in IDEA Magazine 01.12.2008

Zuzana Licko's pattern fonts and designs are prominently featured in the current issue of the Japanese design magazine IDEA. The issue (No. 325) is a visual survey of the "Natural History of Printers' Flowers." Copies of the magazine can be purchased directly from IDEA magazine.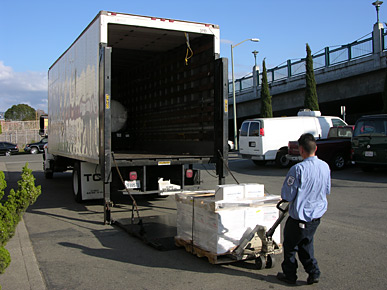 Brand New Emigre Catalog Arrives at Emeryville Warehouse 04.11.2007

You can order a copy or sign up to receive the next Emigre Catalog for free here.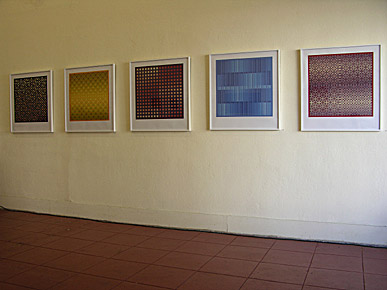 Emigre Puzzler Prints at North Berkeley Frame & Gallery 04.01.2007

Twelve limited edition C-prints created by Zuzana Licko are on exhibit at North Berkeley Frame & Gallery.
These elaborate color prints were composed by Licko using her Puzzler font. They were printed with the Durst Lamda digital imager, each in a limited edition of 50. The show opened on March 13 and will run through May 11, 2007. Gallery Hours: Tuesday-Friday 10-5:30 Saturday 10-4:30
North Berkeley Frame & Gallery, 1744 Shattuck Avenue, Berkeley, CA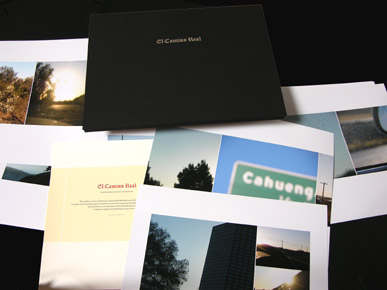 Emigre Photo Portfolio Presented at The Photography Show 2007 04.12.2007

Richard Moore Photographs will exhibit El Camino Real, a portfolio of new photographs by Rudy VanderLans. Organized by the Association of International Photography Art Dealers, The Photography Show 2007 will feature more than eighty of the finest dealers in fine art photography. The show runs from April 12 trough April 15, 2007.
The Park Avenue Armory, 67th Street & Park Avenue, New York City, NY