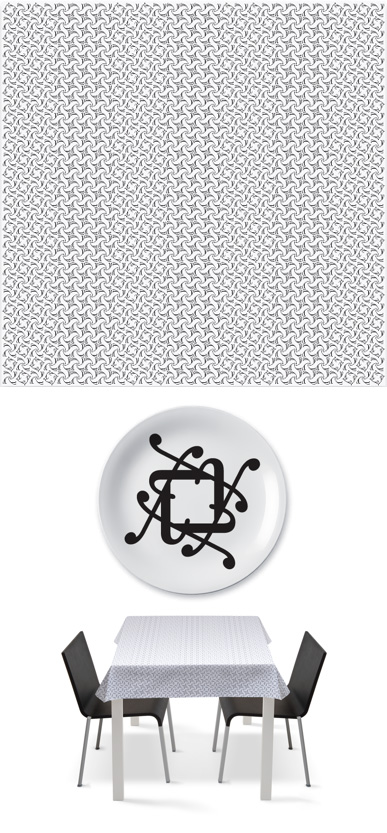 Emigre at Museum of Modern and Contemp. Art in Bolzano, Italy 11.18.2011

Applications of Emigre's Hypnopeadia patterns, designed by Zuzana Licko, were included in the exhibition Typographic Tables at the Museum of Modern and Contemporary Art in Bolzano, Italy. The exhibit featured works by 30 international highly-regarded Graphic Designers, and explored the role of the word, its meaning, its form, and its context in our everyday life. The 30 designers were asked to design a typographic table cloth and dinner plate to create a space to sit around, to eat, and to discuss with your table neighbor. Designers included such luminaries as Ed Fella, Erik Spiekermann, Irma Boom, Büro Destruct, Philippe Apeloig, Helmut Schmid and many others.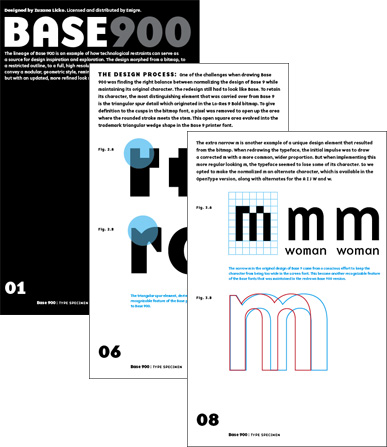 Base 900 PDF Catalog 11.15.2011

To celebrate the inclusion of Base 900 in the Walker Art Center exhibit Graphic Design: Now In Production we have added the Base 900 Type Specimen to our list of free downloadable PDF catalogs.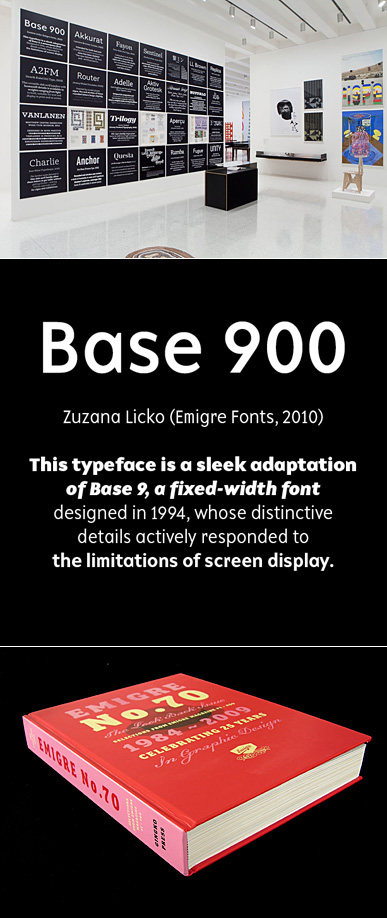 Emigre at the Walker Art Center, Minneapolis 11.11.2011

The Emigre typeface Base 900 and the book Emigre No. 70: The Look Back Issue were selected to be featured in the exhibit Graphic Design: Now in Production at the Walker Art Center in Minneapolis. This major international exhibition explores how graphic design has broadened its reach dramatically over the past decade, expanding from a specialized profession to a widely deployed tool. Graphic Design: Now in Production is the largest museum exhibition on the subject since the Walker's seminal 1989 exhibition Graphic Design in America: A Visual Language History in which Emigre's work was also represented.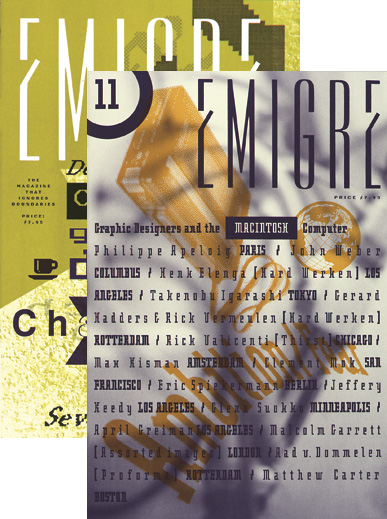 Emigre at Victoria & Albert Museum, London 10.12.2011

Emigre magazine issues #10 and #11 are included in the exhibition Postmodernism: Style and Subversion 1970-1990 at the Victoria & Albert Museum in London. This exhibit, which features work by the likes of Peter Saville, Frank Gehry, Philippe Starck, Robert Venturi, and Ettore Sottsass, sets out to answer the questions "What does postmodernism mean, and where did it come from?" And while some of its participants have tried to distance themselves from postmodernism, Emigre is proud to have been an active participant in this controversial movement which continues to defy definition.

Read Rick Poynor's review of the the exhibition here.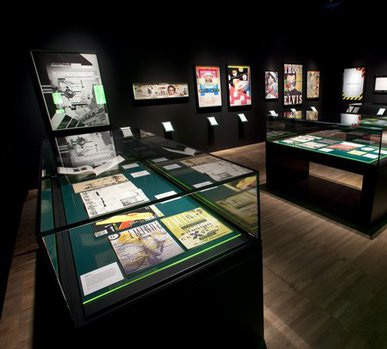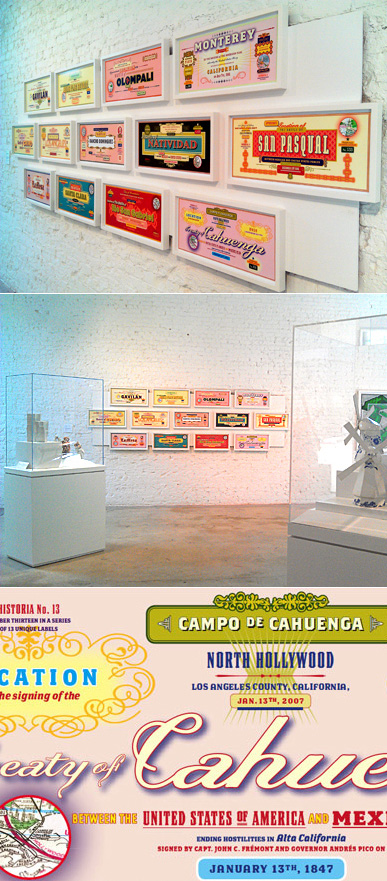 Emigre at Contemporary Art Museum, Raleigh, NC 10.10.2011

All 13 typographic labels designed for the Historia type specimen are included in the exhibit Deep Surface: Contemporary Ornament and Pattern at the Contemporary Art Museum in Raleigh, NC. Curated by Denise Gonzales-Crisp and Susan Yelavich the exhibition is comprised of works from 42 international designers and artists and speaks to the pervasiveness and relevance of pattern and ornament in graphic design, industrial design, fashion, furnishings, architecture and digital media.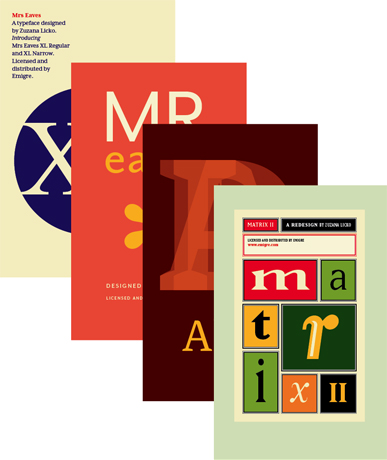 Emigre Fonts PDF Catalogs 09.13.2011

Emigre's award winning type specimen catalogs are now available for free as downloadable PDF files. Many have been long out of print and some have reached collector item status. So if you haven't received these in the past, or have lost your copy, here is your opportunity to receive these beautifully designed type catalogs delivered directly to your computer for immediate typographic perusal.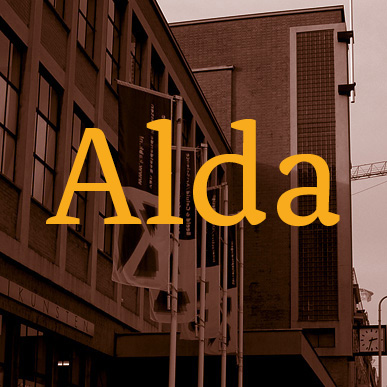 Dutch Treat 06.06.2011

Rudy VanderLans couldn't be more proud of the latest Emigre typeface release. Alda, designed by Berton Hasebe, was conceived and developed at VanderLans' Alma Mater, The Royal Academy of Art (KABK) in The Hague. "This typeface wears its local heritage on its sleeve," said VanderLans. "It exudes Dutch type design to such a degree, it makes me feel homesick. It has that beautiful combination of being both robust and elegant. It's a great text typeface. I can't wait to use it in some of my own designs." See if you can beat VanderLans to it by purchasing your own copy of Alda right now.

A short interview with Hasebe about his experiences at KABK is posted in our essays and interviews section. (Photo of KABK building, The Hague, by Hyo Kwon.)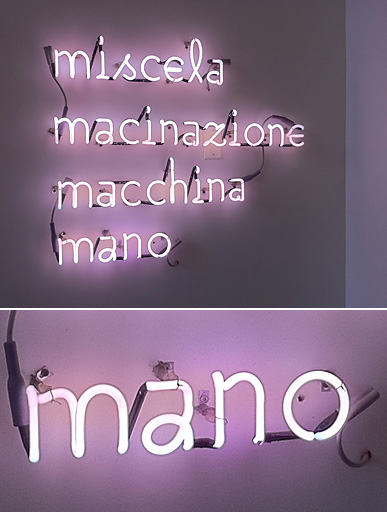 Neon Suburban 05.26.2011

Jonathan Hoefler sent us this wonderful example of Suburban at a coffee house around the corner from their office called La Colombe. We never imagined neon as a viable application for Suburban when we designed it, but it works remarkably well. Our hats off to whoever produced that sign.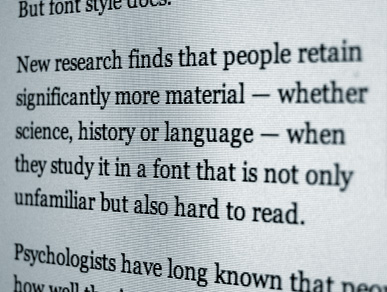 The Legibility Wars are Over and the Winner is... 05.22.2011

Twenty years after we first published our thoughts on legibility in Emigre magazine, the rest of the world is finally catching up. We raised a lot of eyebrows in those days. Our less than neutral layouts and jarring typeface designs were criticized and dismissed as self indulgent and were deemed to interfere with the readers' ability to read texts and comprehend messages. The opposition to our experiments was so vehement that the ensuing battle was referred to by many as "The Legibility Wars."

Well, it turns out that researchers have found what we suspected all along: that slowing the reader down actually helps them concentrate harder and retain more information. Disfluency, as the researchers call it, improves retention. Or as The New York Times put it: "...people retain significantly more material when they study it in a font that is not only unfamiliar but also hard to read."

Of course we're not absolutists on this issue, and we're highly skeptical of findings by researchers who have little knowledge of the complexities of type and design. But it was always obvious to us that there's more to effective typography than simply making things legible.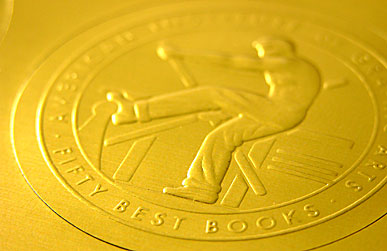 Books of Excellence 05.21.2011

When the AIGA decided to discontinue their annual design competition, "50 Books/50 Covers," in early 2011, members and non-members alike reacted en masse. Designers and publishers love the printed book, and a public petition to save "50/50" resulted in over a thousand signatures in only a few days convincing the AIGA to reinstate the popular competition.

It's inspiring to see this passionate interest in the art of traditional book making. And we're proud to be a part of this long running event, as Emigre and its publisher Gingko Press have been on the receiving end of two "50/50" Certificates of Excellence. In 2010 we received one for Emigre No. 70: The Look Back Issue. And in 2001 the award was bestowed on Supermarket.










Emigre Newsletter
You can add yourself to the Emigre Newsletter emailing list. We use the Emigre Newsletter to help keep you informed of new products, services, and special limited offers.