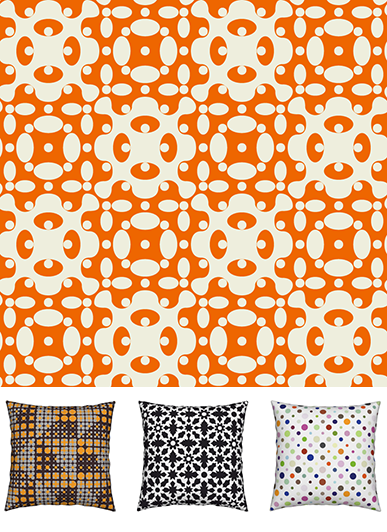 Fabrics and Pillows
Zuzana Licko is applying some of her intricate pattern fonts to colorful fabric prints. Composed from Puzzler, Hypnopaedia and Tangly, these bold prints are now available as yardage and pillows.
You can choose from a variety of fabric materials, custom printed with Zuzana's pattern designs at spoonflower.
All prints in this collection are also available as pillows, napkins, or wallpaper at roostery.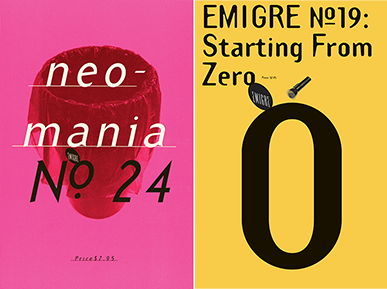 Emigre in the UK
Two current exhibits in the UK feature work by Emigre.
The University of Reading is staging the exhibit Emigre magazine: design, discourse and authorship. The exhibition, which will run from June 12 to July 14, has been co-curated by Francisca Monteiro and Rick Poynor.
The show is divided into sections that reflect and examine the range of Emigre's activities – Rudy VanderLans as editor; The Emigre type foundry led by Zuzana Licko; VanderLans as graphic author; the Emigre Music record label; Emigre as a space for collaborative authorship for designers and writers; Emigre considered in context. A related essay by Rick Poynor on the influence of Emigre on graphic design was published in Creative Review.
Also in the UK, a number of Emigre magazine issues are included in the wonderful exhibition California: Designing Freedom at the Design Museum in London which runs from May 24 to October 17.
The exhibit explores how the ideals of the 1960s counterculture morphed into the tech culture of Silicon Valley, and how "Designed in California" became a global phenomenon.
Read about California designers Zuzana Licko, April Greiman, and Susan Kare and their influence on a generation of graphics in a review of the show at FastCompany.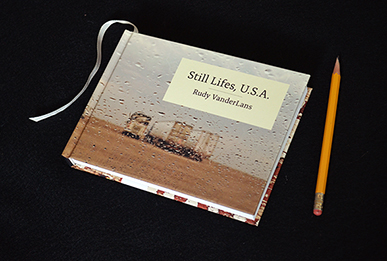 Still Lifes, U.S.A
Upon his arrival in the US some 36 years ago, Rudy VanderLans embarked on a pan-American bus trip from New York to California. Overwhelmed by the experience, he rarely took out his camera, feeling unprepared for the challenge to do justice to the visual overload of the American environment.
In 2016 he set out to retrace his route, this time with camera in hand and a determination to record the experience. If the work seems familiar at times, VanderLans is quick to name his influences: "It's through the photographs of Ruscha, Shore, Friedlander, Eggleston, and others that I learned to look at America more discerningly," he says. "I use their examples as a jumping off point to distill my own impressions."
The haunting work that resulted from his journey, titled Still Lifes, U.S.A., published exclusively in book form, creates the second entry in a trilogy of books that began with Still Lifes, California. These postcards from the road evoke both tranquility and solitude, entropy and loneliness in equal measures.
Published by Gingko Press.