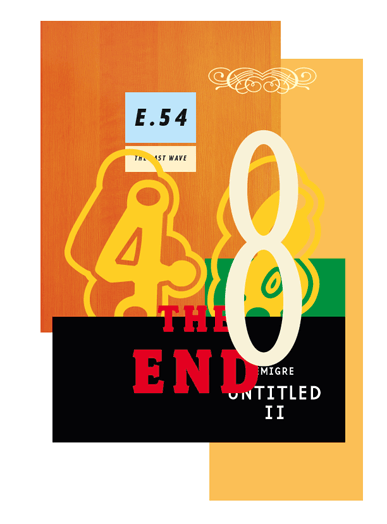 Emigre Cover Stories
Emigre Cover Stories is a series of 10 digital collages created specifically for the 2010 exhibit Emigre at Gallery 16 celebrating Emigre's 25th anniversary. These digital pigment prints, measuring 34 x 46, are signed and numbered and printed in editions of 10 each. The prints are available exclusively through Gallery 16.

Emigre at Gallery 16
Last chance to catch the Emigre exhibit at Gallery 16, through January 30th, 2010.
Here's an excerpt from a review published in ArtForum:
"The show offers a nonchronological history arranged salon-style, an idea enhanced by a 2009 series of large digital prints composed of remixed elements from past projects. These new pieces reveal the suppleness of VanderLans and Licko's vision [...] Also included are pieces rooted in art and craft dialogues––a series of hypnotic, pattern-intensive abstractions composed of typeface fragments, Licko's pottery, and VanderLans's New Topographics-style color photographs of dusty western landscapes. These may not feel game changing, but they affirm that the Emigres are still playing." - Glen Helfand
Gallery 16, 501 3rd Street, San Francisco, California, 94107
Monday - Friday, 10am - 5pm. Saturday 11am - 5pm.