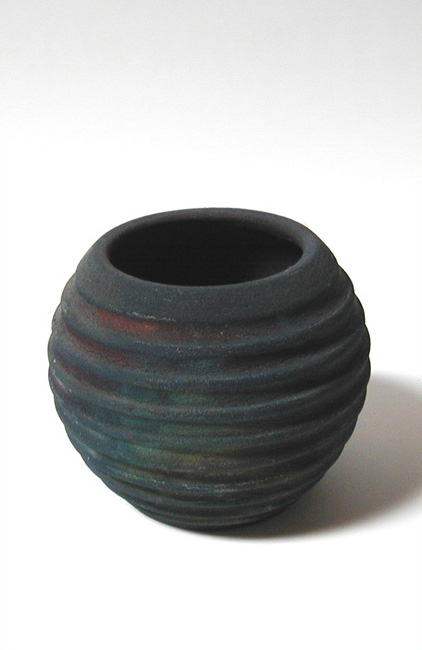 Raku Ceramic Vase
Wheel thrown vase, with carved ribbed texture.
Raku firing gives this piece streaks of smokey colors.
Due to the nature of Raku, this piece is porous and will NOT hold liquid.
4.5 inches tall.
Item No. 280.
Zuzana Licko's one-of-a-kind vases are offered in a variety of colorful glazes applied to various shades of stoneware. Heights range from 2 to 12 inches.
All pieces are microwave safe, except for Raku items.
Please note that ceramic material is naturally porous.
New collections are put up for sale only twice a year. Due to limited numbers they sell out very quickly. So be sure to add your name to the Emigre Newsletter email list to be kept up to date on new offerings.
View a gallery of past ceramic items.
Read a short essay by Zuzana Licko about her work in type and ceramics.
Visit Celery Space. A selection of Zuzana's ceramics is available at Celery Space Gallery in Berkeley, California.