Email List
Add yourself to our emailing list.
---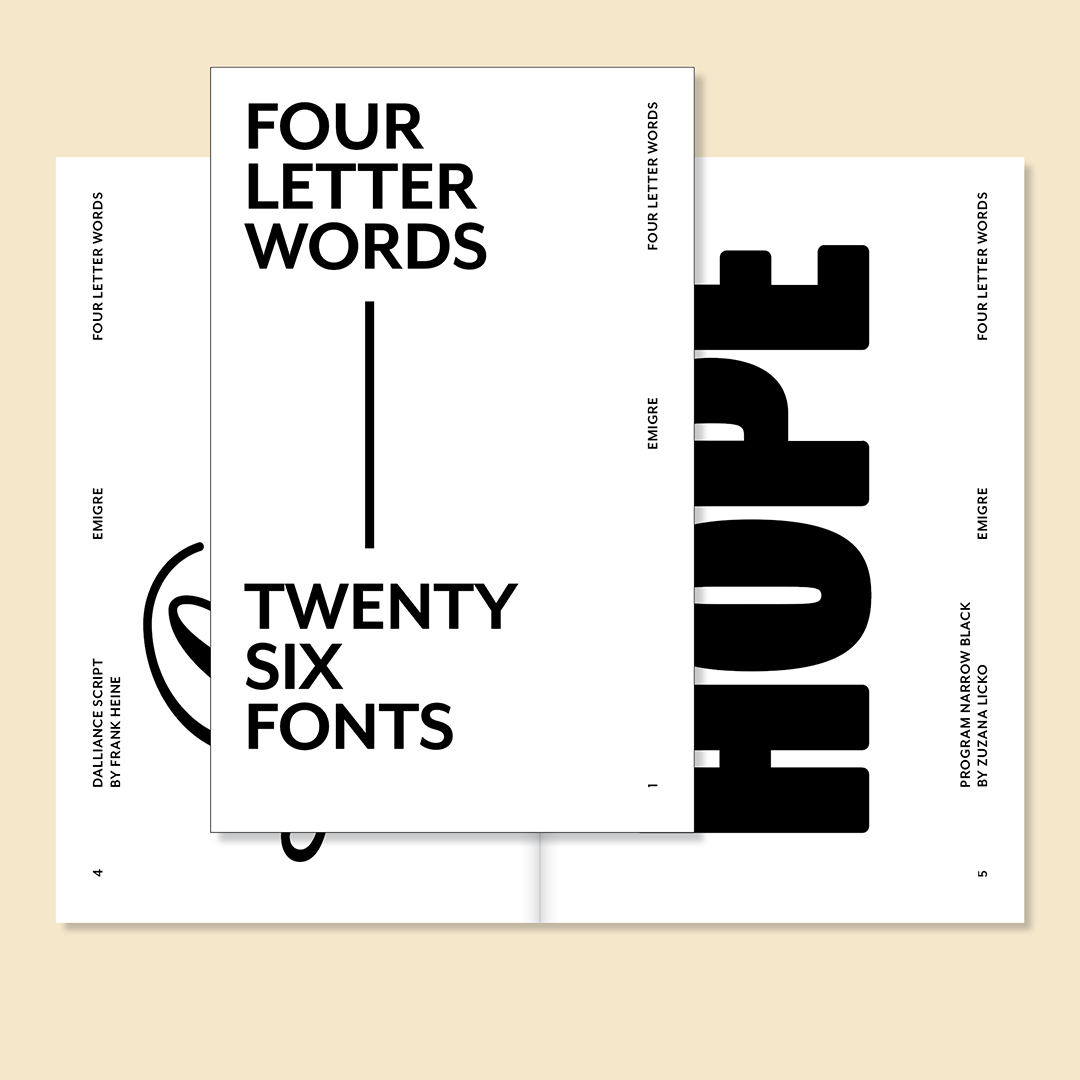 February 23, 2021
"Make it bigger" is an often heard client suggestion that can drive graphic designers mad. But sometimes things actually do look better when big. We picked twenty-six fonts from the Emigre Library that we think look really good when used at a large size and gave them ample real estate to display their distinguishing details.
Designed by Rudy VanderLans, this thirty-two-page type specimen features typefaces by Mr. Keedy, Jonathan Barnbrook, Zuzana Licko, Elliott Earls, Sibylle Hagmann and many others. Each typeface is used to spell out a four letter word suitable for print.
You can download a free PDF version from the Emigre website.
https://www.emigre.com/TypeSpecimens/FourLetterWords
And if you're on the Emigre mailing list, you'll receive a printed version within the next month or so.
https://www.emigre.com/TypeSpecimens
Bonus: Emigre fonts are available as part of your Adobe Creative Cloud subscription.
https://fonts.adobe.com/foundries/emigre
---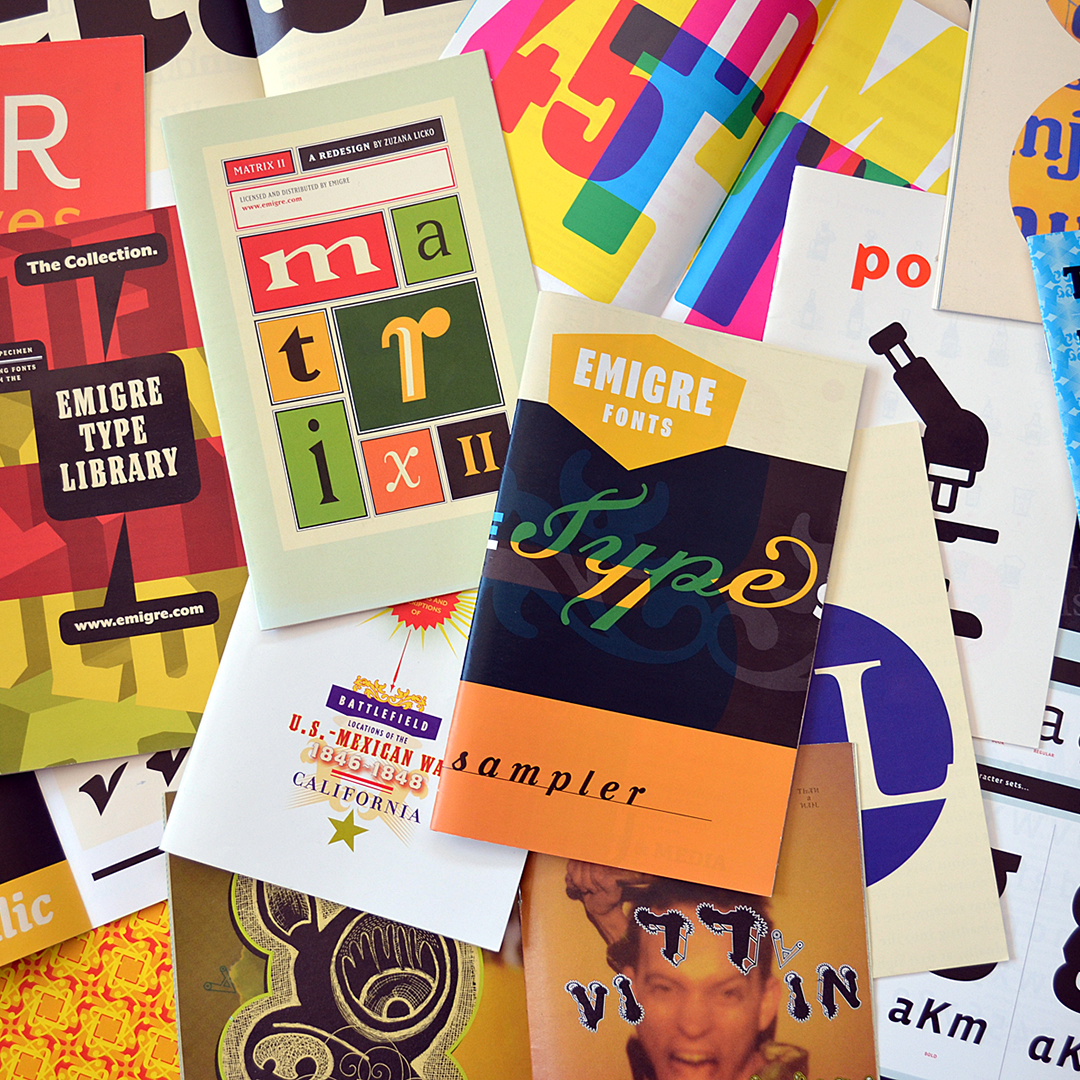 September 21, 2020
You can download most of Emigre's type specimens for free as PDF files. But if you're like us, and believe that nothing beats print, now is your opportunity to add to your library of printed type specimen catalogs.
For the first time in years we are making our back catalog of printed Emigre font catalogs available for sale. These are vintage type specimens of some of our most popular fonts such as Mrs Eaves, Program, Puzzler, Alda, Cardea and Vista.
Designed by Rudy VanderLans, these catalogs go beyond their primary function as sales tools. By creating specific contexts, the booklets were produced to be enjoyed as much for the design of the typefaces as for the engaging content.
If you missed out on any of these, or want to replace an old copy, now is your chance to enhance your collection. Limited availability.
---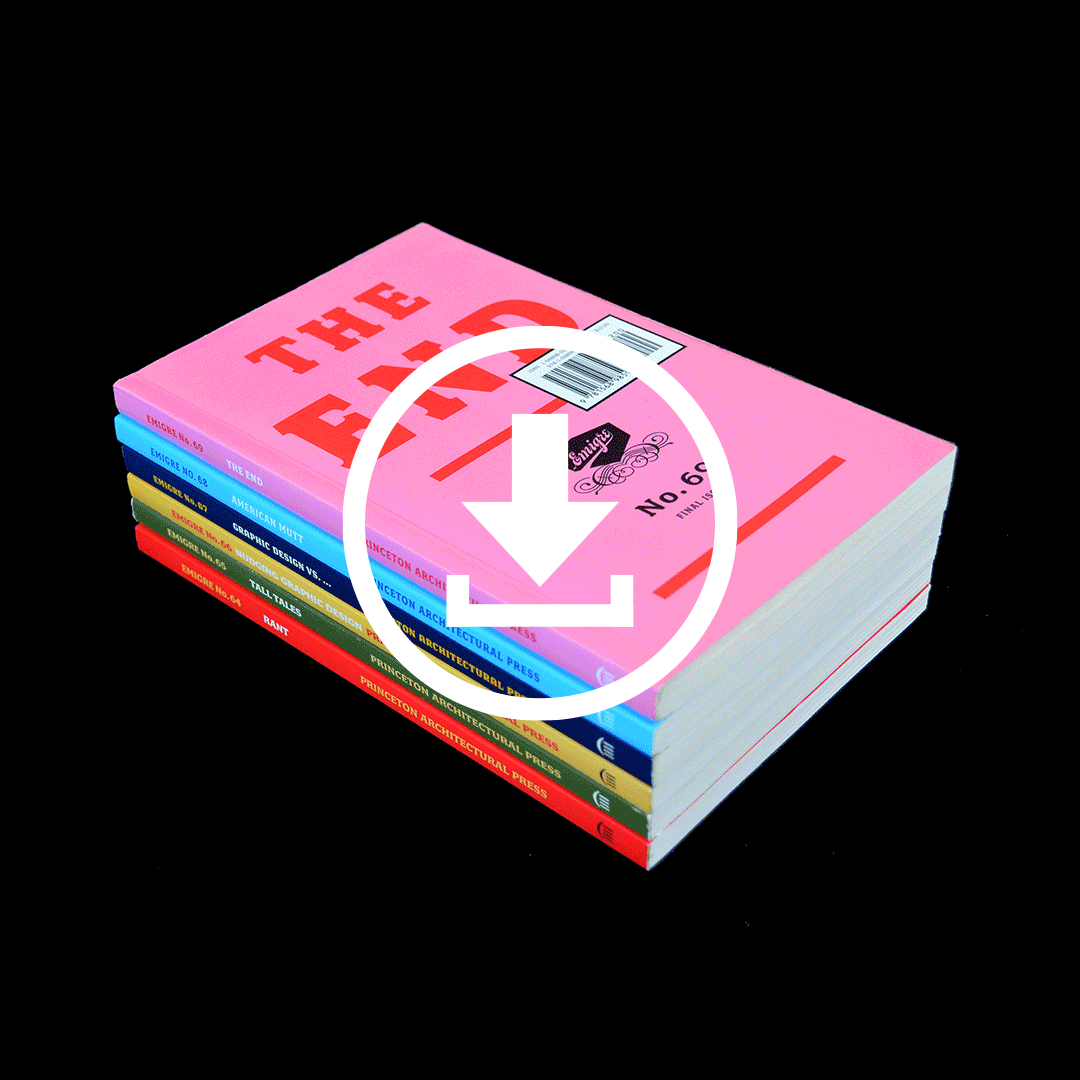 August 4, 2020
The final six issues of Emigre magazine, co-published with Princeton Architectural Press from 2003-2005, are now available as free PDF downloads from the Emigre website.
These six pocket-book sized volumes were a final effort by Emigre to highlight and encourage critical writing within graphic design. We believed that design, as a cultural force, was worthy of an evaluative look, so we turned an inquisitive eye on our profession.
All six issues have sold out years ago. We're now making them available for free to anybody who'd like to revisit or who missed the excitement of the often heated debates that were circulating within graphic design during the early years of the 21st century.
Featuring essays by Mr. Keedy, Kenneth FitzGerald, Lorraine Wild, Andrew Blauvelt, David Cabianca, Rudy VanderLans, Katherine McCoy, David Barringer, Gerard Unger, and interviews with Experimental Jetset, Peter Bilak, Louise Sandhaus, Ian Anderson, and many others.
---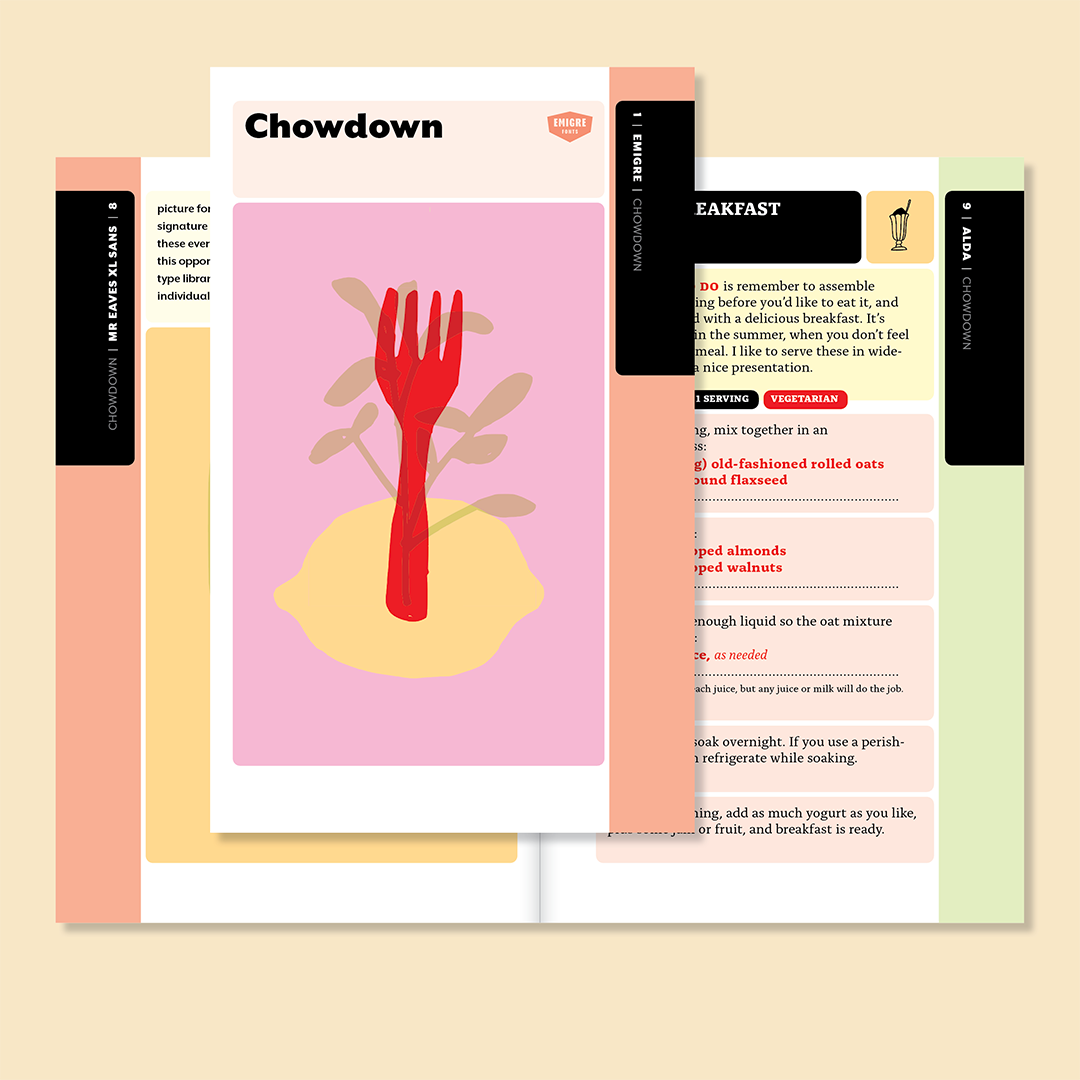 May 26, 2020
The next Emigre Fonts catalog is here! Chowdown, is a type specimen in disguise, featuring 21 recipes cooked-up by Zuzana Licko. Compiled from a loose collection of scribbled comments on sticky notes and index cards filled with recipes that Licko and her husband Rudy VanderLans have been enjoying over the years, they are now sharing some of their favorites with you in this collection. Each recipe is paired with a delectable font freshly handpicked from the Emigre fonts library.
This scrumptious 64-pager was edited by Maria Zizka, author of The Newlywed Table cookbook, and garnished with a brand new picture font named Chowdown by Bay Area artist Tucker Nichols.
You can download a free PDF version of the Chowdown cookbooklet from the Emigre website.
https://www.emigre.com/Fonts/Chowdown
---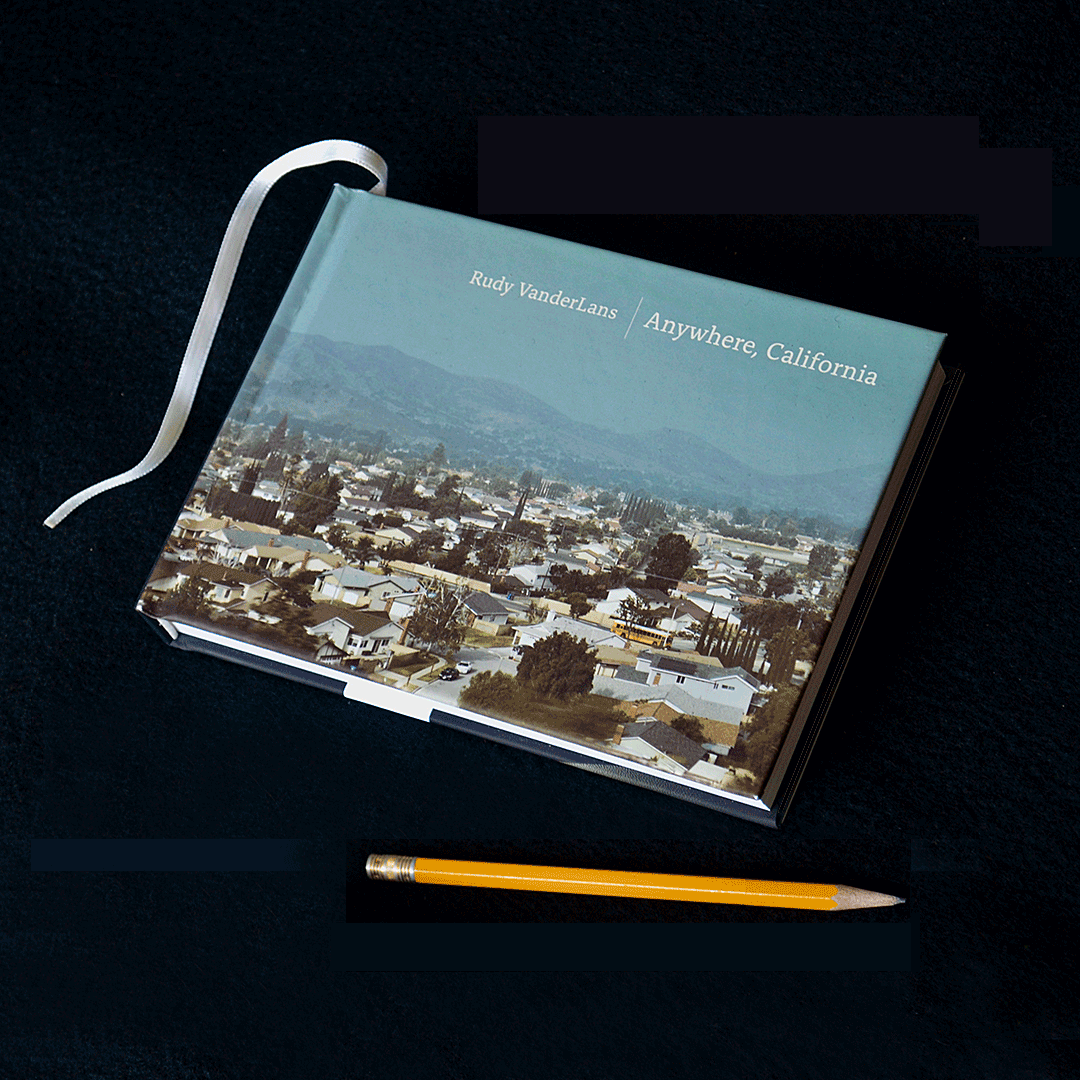 May 12, 2020
"Anywhere, California" is another close look by Rudy VanderLans into the cultural landscape of his favorite subject, the Golden State. Whether it's the garage where Apple started in Los Altos, or the former location where the Manson Family lived in Chatsworth, or an anonymous abandoned storefront in Calexico, VanderLans finds beauty in the unlikeliest of locations. Yet he rarely divulges the why or what of his photographs. Instead he stresses that things aren't always what they appear to be, leaving much to the imagination of the reader.
Stylistically diverse, and meticulously composed, his pictures are as sundry in nature as California itself. Presented in unencumbered page layouts, with well-considered sequencing, this publication is another testament to VanderLans' dual mastery of design and photography. It continues his preference for the book format as his primary vehicle to exhibit his photography, making this limited first edition another instant collectible.
Available from your local bookstore, or through gingkopress.com and emigre.com.
---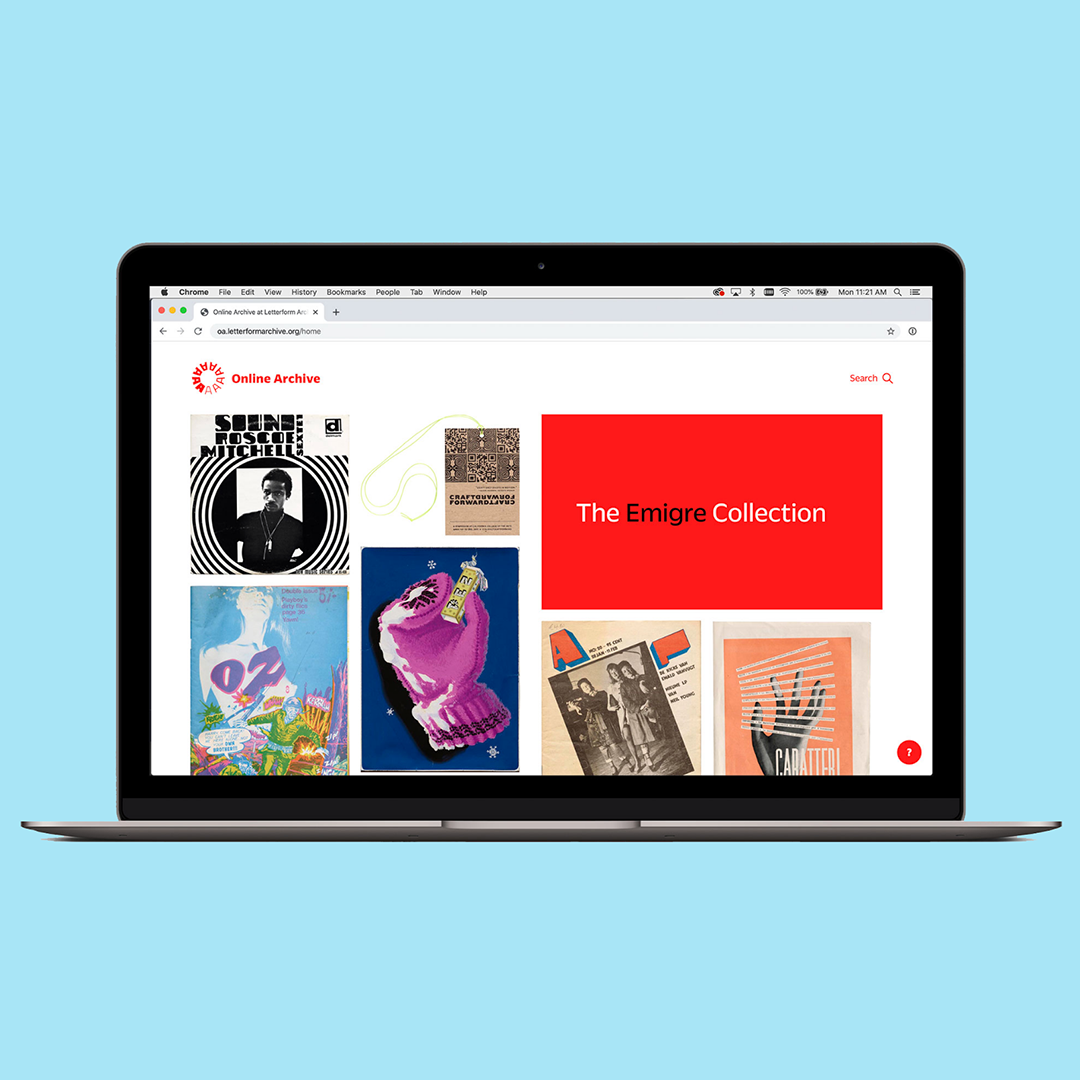 April 21, 2020
The much anticipated online version of the San Francisco-based Letterform Archive is now public! Enjoy unprecedented virtual access to nearly 1,500 objects and 9,000 hi-fi images (and counting!) from their collection, free of charge. For all the students and designers taking shelter at home, we hope this will bring a little inspiration to the world.
Besides some of design's most iconic artifacts, this treasure trove includes the full run of all 69 issues of Emigre magazine, to be accessed, read and explored, from cover to cover, in super high resolution. With extensive cataloguing data accompanying each entry, this is the ultimate source for researchers, educators and graphic design aficionados alike.
Please go and explore this wonderful archive! We know this is a trying time for many people, but if you're able to support the Letterform Archive and the work they're doing, consider doing so by making a gift to their new home or a one-time donation of an amount of your choosing, ensuring that their archive will be freely available to everyone forever.
---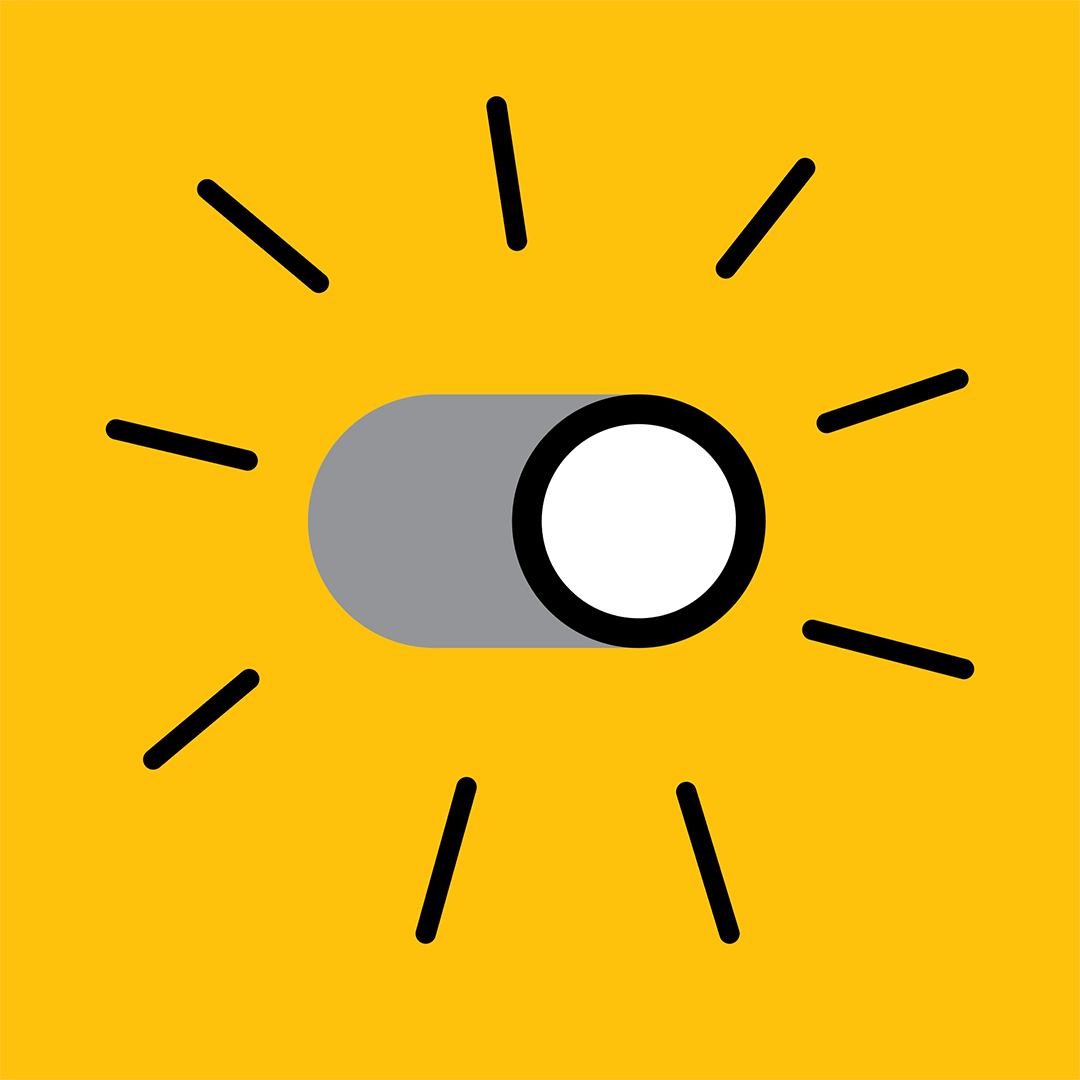 January 12, 2020
Did you know? The Emigre Fonts Library (nearly 500 fonts) is available through the Adobe Creative Cloud service! This is a great worry-free solution for most of your desktop and web font needs. And it's included in your Creative Cloud subscription, at no extra cost to you. You have all the Emigre fonts right at your fingertips, just click the "Activate font" toggle switch and the font is instantly available to all your desktop applications. This simple license to use Emigre fonts is valid for as long as you subscribe to Creative Cloud.
If you prefer to have a perpetual license and/or want to self-host web fonts, you can order directly from Emigre or our resellers. We can also help you with specialty licenses for servers, games and other dynamic content applications, or any other license not covered by the Adobe Fonts license.
If you have licensing questions, email us at sales@emigre.com
Bonus: when you order a font direct from Emigre, we'll mail you a selection of Emigre's award winning type specimens.
---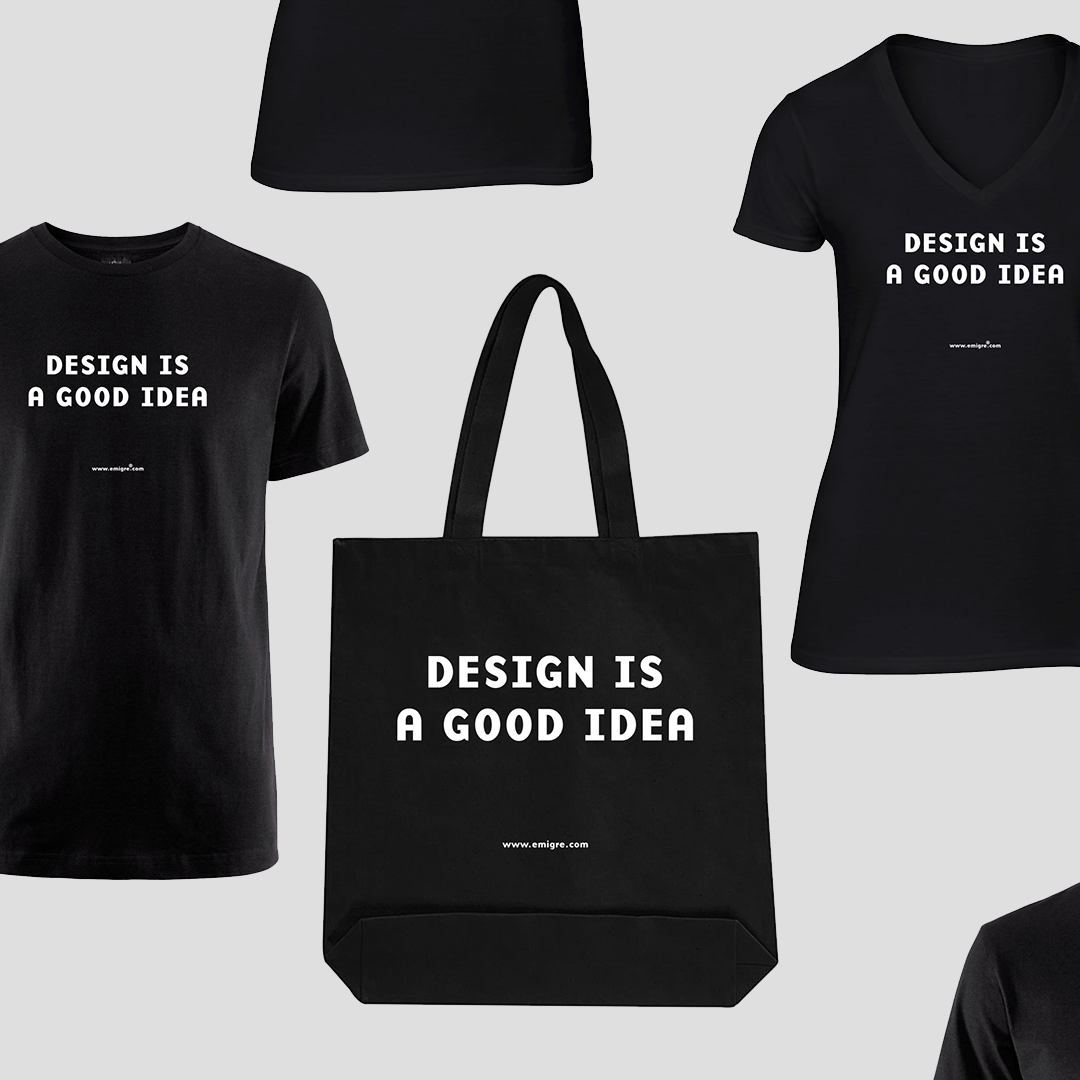 December 3, 2019
Once again, by popular demand, we have brought back the "Design is a Good Idea" T-shirt. This time we also added a canvas Tote Bag and a Notepad with letterpress printed cover. Beware: these items are printed in limited editions.
While you're visiting our online store, check out our Merch & More section for artist books by Rudy VanderLans, Emigre music releases, and Zuzana Licko's most recent one-of-a-kind ceramics and pictorial weavings.
---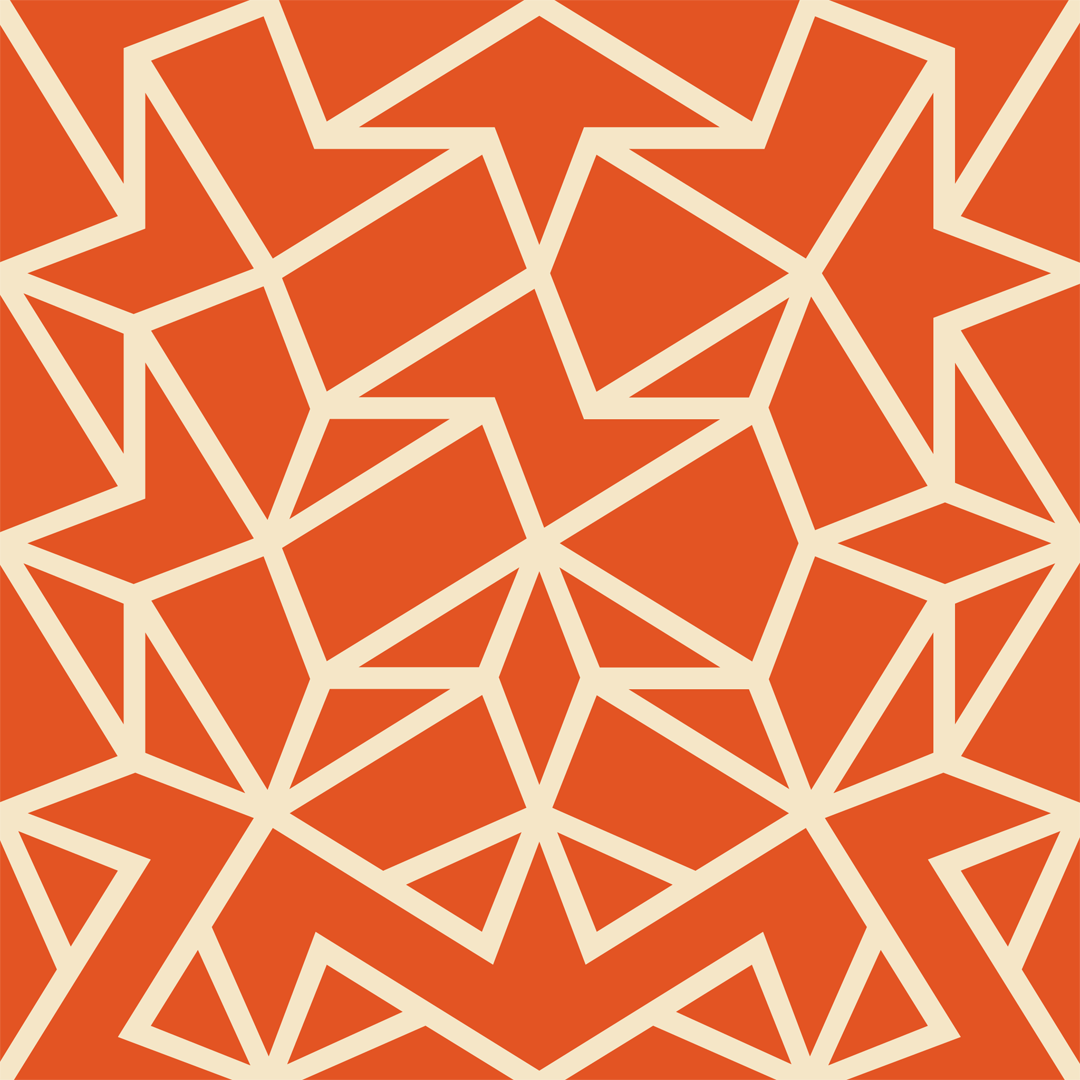 August 14, 2019
Crackly is a pattern font that follows in the footsteps of Licko's previous release, Tangly. Instead of curved lines, Crackly is composed from straight lines that intersect at various angles.
The idea for Crackly came from Licko's ceramic sculptures. She was composing stacked totems from modular cones and disks of various sizes and angles, and to help visualize these shapes in different combinations, she made herself a font so she could type out various sculpture compositions before assembling them.
Recognizing that the font itself had potential, Licko worked on adapting the elements into square proportions that could be rotated and connected. Many of the resulting patterns create illusions of depth with incongruous perspectives, reminiscent of Cubism and M.C. Esher's work.
As Licko was experimenting with the Crackly patterns, it occurred to her that the compositions would make excellent graphics for coloring, so we decided to make a coloring book disguised as a type specimen. Or vice versa?
What Crackly adds to the coloring book phenomenon, though, is that you can use these pattern fonts to make compositions, print them out on your laser printer, and generate your own coloring pages. We imagine that kids and adults alike can enjoy the experience of getting lost in the moment of experimentation and coloring. Or you can use Crackly for any other pattern applications, such as endpapers or backgrounds. The options are limitless.
You can download a free PDF version of the Emigre Coloring Book from the Emigre website. https://www.emigre.com/Fonts/Crackly
And if you're on the Emigre mailing list, you'll receive a printed version within the next month or so. https://www.emigre.com/TypeSpecimens
---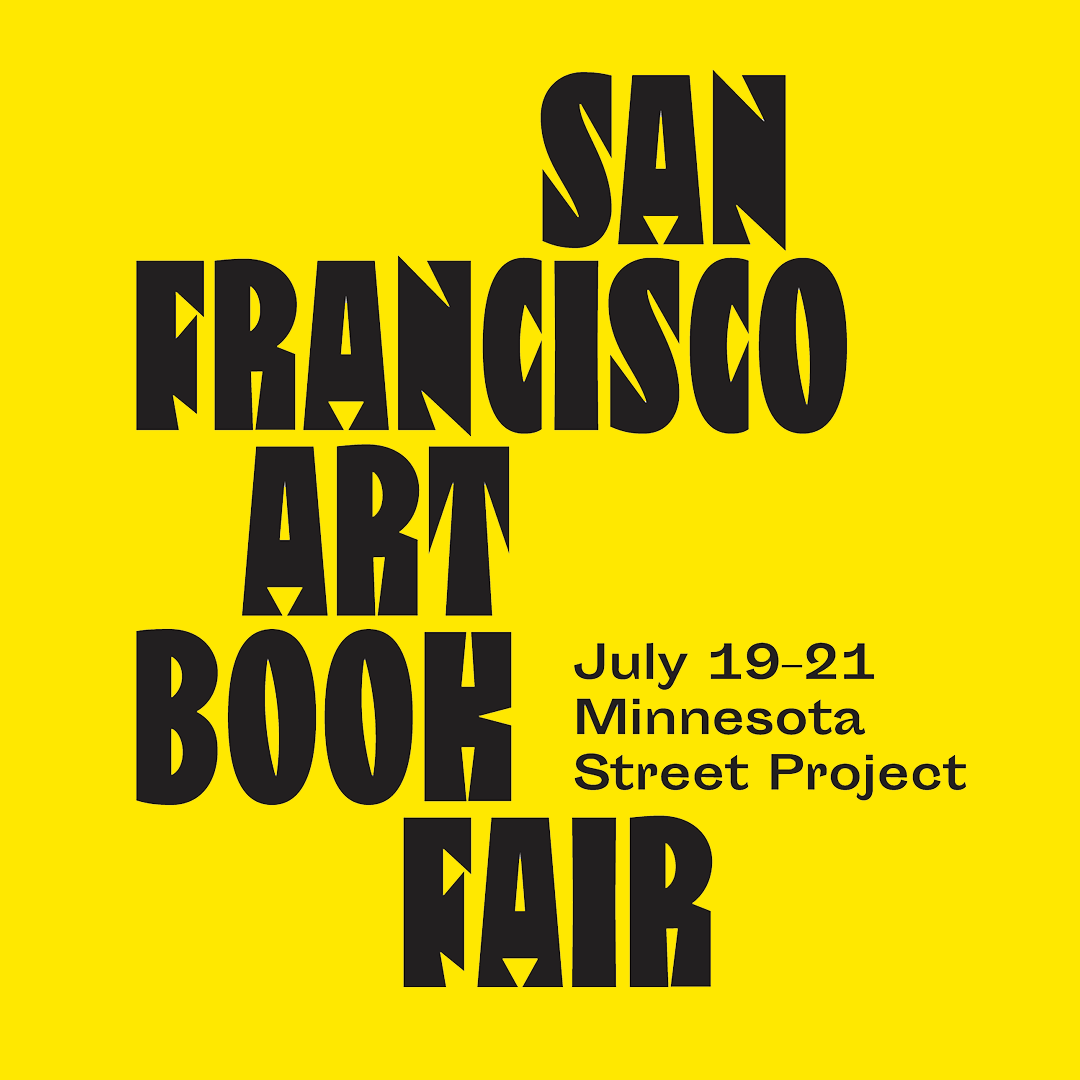 July 19, 2019
Come check out the Emigre booth at the San Francisco Art Book Fair this weekend. We'll have a selection of our latest releases and old favorites for sale, including photo books, Emigre magazine back issues, type specimens, music, vintage T-shirts, tote bags, caps, and lots of giveaways.
Emigre, Booth M22, Minnesota Street Project
1275 Minnesota Street, San Francisco
Hours: Friday, July 19, 6 – 10pm
Saturday, July 20, 11am – 6pm
Sunday, July 21, 11am – 5pm

---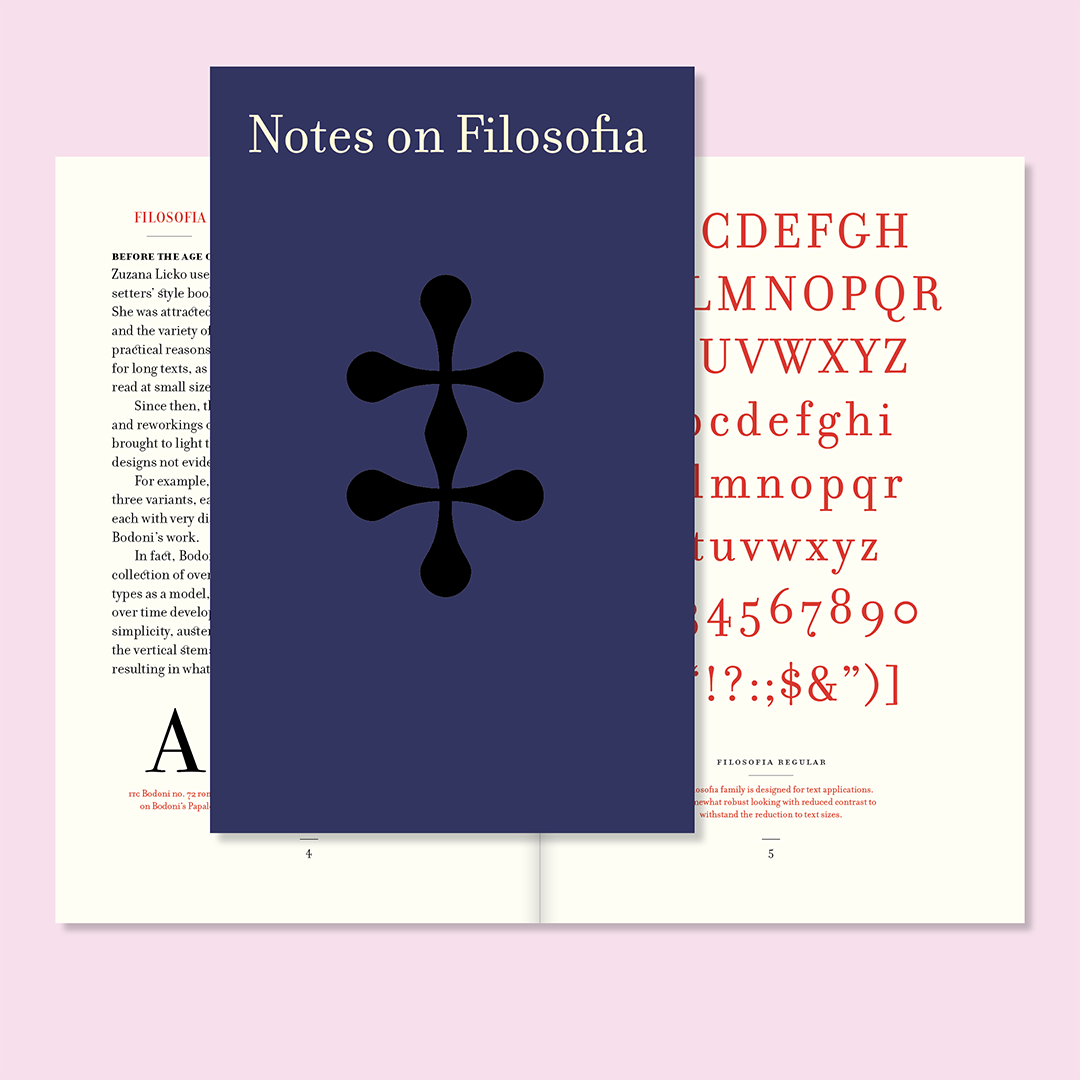 May 21, 2019
Notes on Filosofia is an overview of the design and general history of one of Emigre's most popular fonts. Filosofia was designed in 1996 by Zuzana Licko and is based on Bodoni's cut of Filosofia 3 Siena. Licko designed Filosofia largely from memory. After closely studying a copy of Giambattista Bodoni's "Manuale Tipografico" (1818) at the Bancroft Library in Berkeley, California, she started her first sketches by drawing directly on the computer using Fontographer. The resulting design shows Licko's personal preference for a geometric Bodoni, while incorporating such features as the slightly bulging round serif endings which often appeared in printed samples of Bodoni's work and reflect Bodoni's origins in letterpress technology. This brand new type specimen, designed by Rudy VanderLans, recalls those early events, as well as other highlights in the life of this wonderful typeface.
You can download a free PDF version from the Emigre website.
https://www.emigre.com/Fonts/Filosofia
And if you're on the Emigre mailing list, you'll receive a printed version within the next month or so.
https://www.emigre.com/TypeSpecimens
---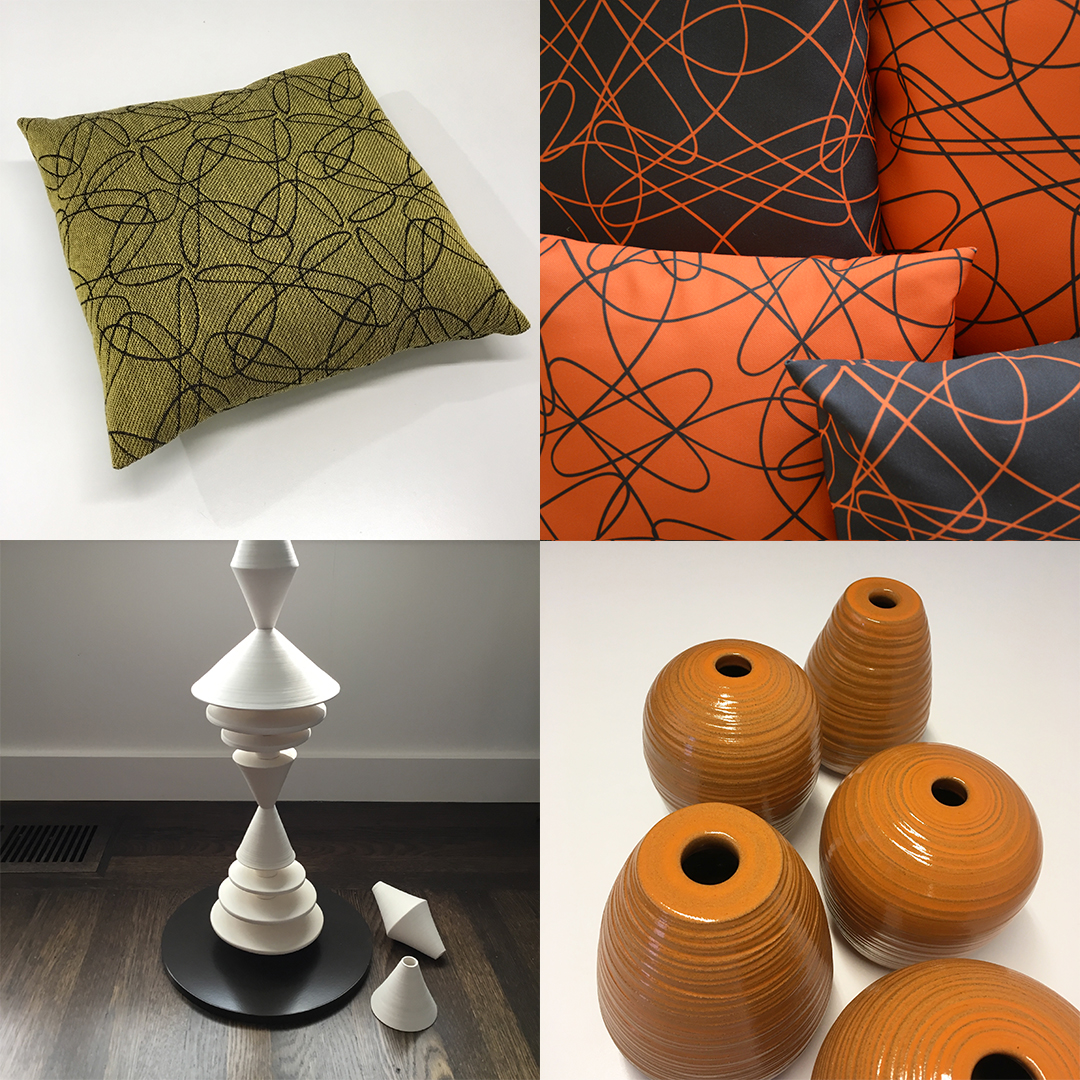 December 5, 2018
Cozy up this winter with Tangly pillows and handmade ceramics by Zuzana Licko.
During the design process of Tangly, her most recent pattern font design, Licko experimented by applying these intricate motifs onto different fabrics, including jacquard weaves, to see how these Tangly patterns could be utilized. She then sewed many of these fabric samples into different sized pillows, enjoying the results, which lead to her decision to make them available commercially. Many of her patterns can now be ordered on a variety of fabrics and sewn to order into pillows and other housewares.
A few times a year Licko also produces small sets of hand thrown ceramic vases. With their bright red, orange and green glazes, or muted black and white tones on various shades of stoneware, these simple yet elegant vases will fit any decor.
In addition, Zuzana has recently expanded her ceramic range into producing garden sculptures. Composed from modular handmade pieces, with a nod to mid-century modern, the geometric forms repeat playfully, complementing both plants and architecture. The unglazed stoneware echoes the color palette of terra-cotta planters, and they can be installed both indoor or outdoor.
Throw pillows with Tangly patterns
12" x12" printed and jacquard woven pillows are available at Etsy.
18" x 18" made to order pillows are available at Roostery.
Handmade ceramics
Ceramic Vases at Emigre.
Ceramic Planters and Vases at Etsy.
Garden Cones
Ceramic sculptures, at home indoors and out.
White Garden Cones.
Terra Cotta Garden Cones.
In stores
If you are in the San Francisco bay area, Zuzana's ceramics are available at:
Abrams Claghorn Gallery: 1251 Solano Avenue, Albany, California
Celery Space: 1714 San Pablo Avenue, Berkeley, California
Follow on Instagram
---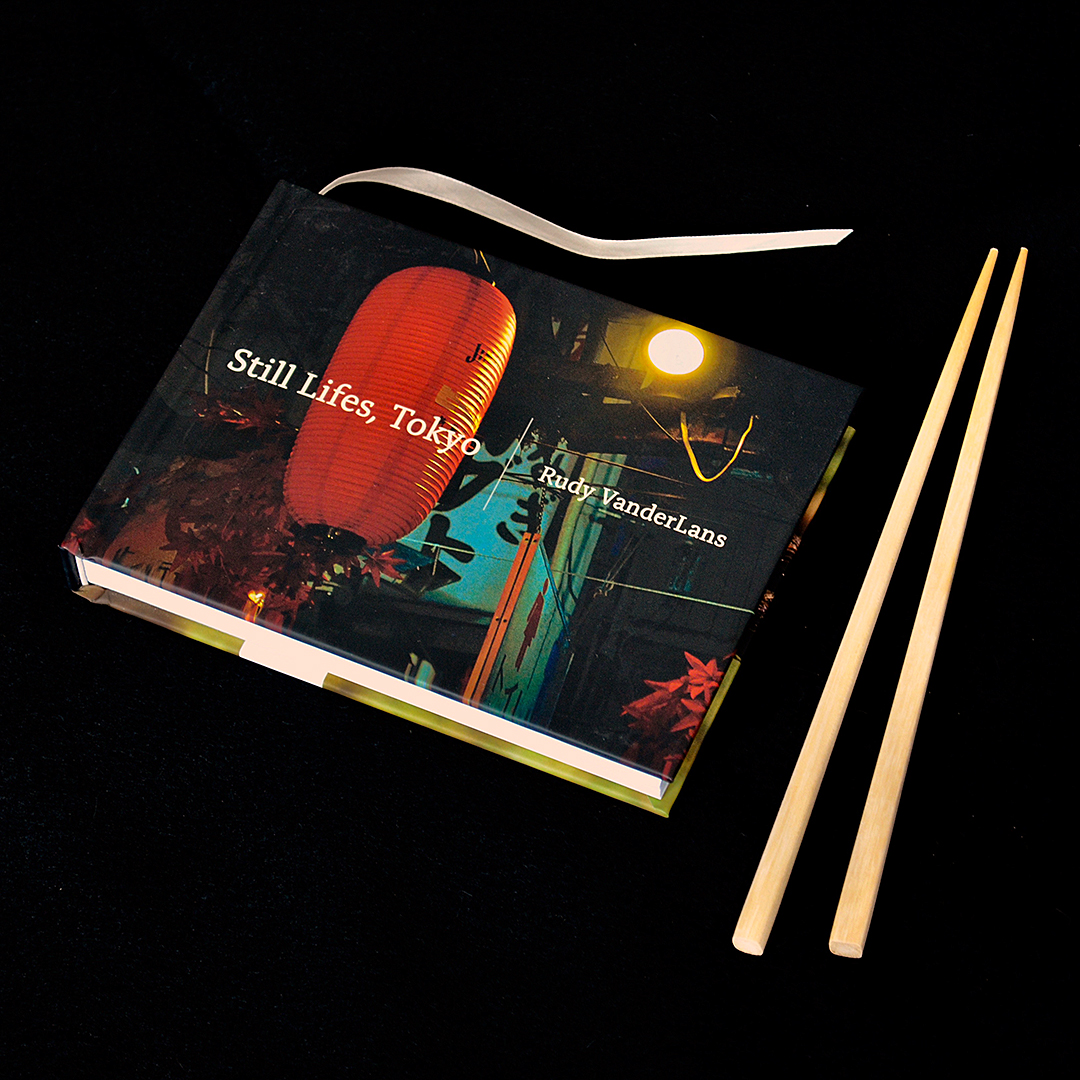 November 27, 2018
Comprising more than two hundred photos taken over the course of three weeks, the third book in the Still Lifes series leaves the United States for the busy streets of Tokyo, resulting in a volume that is both of a piece with and dramatically different from Still Lifes, California and Still Lifes, USA. The roughly translated advertising blurb for the Tokyo hotel where Rudy VanderLans booked his stay promised "a world of stillness and motion," and VanderLans used this as his creative prompt. Over the course of his stay, VanderLans walked over a hundred miles, camera in hand, capturing an extensive document of Tokyo's lived-in details. Just as much care has been taken in the arrangement of the photos, with adjacent images often mirroring one another despite their wildly different subjects. Conspicuously devoid of human figures for such a populous city, these photos capture a Tokyo beneath the surface of the crowd, presenting a version of the city rarely seen in media of any kind.
Available in selected bookstores, or at emigre.com.
---
September 18, 2018
With Tangly, designer Zuzana Licko set out to explore how a font could be used for composing patterns that would appear as looping and connecting lines. Each character on the keyboard would be an element, and the elements would connect at specific points, as they would in a connecting script font, except they would connect at all four edges, top and bottom, as well as left and right. She started with one looped line, then rotated that line so the composed element would connect with itself and all other elements. The result is a pair of font families "Tangly Lines" and "Tangly Splines." Each group has symmetric, mirrored and asymmetric variants.
Licko began the design process in 2014, and returned to it sporadically over the next four years. During this time, she had various types of fabrics printed, and had jacquard fabrics woven to see how these patterns could be applied. Many of her patterns can be ordered as custom printed yardage, on a variety of fabrics, at Spoonflower. And, these fabrics can be sewn to order into pillows and other housewares at Roostery.
These are just a few examples of how Tangly can be used. The number of patterns, combinations and applications is nearly infinite. For more Tangly patterns, download a free Tangly type specimen PDF from the Emigre website which shows additional examples, but still only scratches the surface of what's possible.